This past year we've seen some crazy styles including leggings, tights, and many more. It was basically all about the 80′s. In 2008, the styles are changing and you need to be aware of what's hot and what's not!
Vibrant Colors
In 2008, bright colors will be all the rage! By spring, make sure you drape yourself in beautiful, bright colors and you'll be hot hot hot!
Safari Style
Refrain from the biker chick look and head-to-toe-black ensembles, go safari style instead! It's fun, bright, and cheery, you just can't go wrong!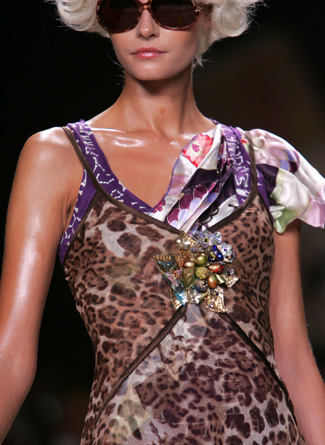 Ballerina Chic
In 2008, ballerina chic will be hot for both winter and spring. Look for ballerina-style necklines, as well as floaty dresses and skirts in tulle or chiffon. Feminine pieces will become even more significant in the year to come. As are boxy jackets, ruffles and 3/4-length sleeves.
Bangs
Yes, that's right bangs are still in so don't freak out yet! If you don't have them already [or are too scared to cut your mane], just push your hair forward so that it frames your face in a dramatic fashion.
Eye-Lash Extensions
Eye lash extensions are a great way to get super long eye lashes without the stickiness of fake eyelashes. Plus, they open up your eyes for a more dramatic look.
The Maxi Dress
Long looks in all colors and patterns — from brights to pales, even Asian, African and vintage prints — will be the dresses of choice of the year. You'll also see a lot of sheath and other body-conscious dresses with belts or fabric manipulation as the cold nights turn to warm evenings.