Faking a short hair cut is a fun style to try on long hair because you'll get a better look at what you would look like with short hair, plus you get the benefits of looking absolutely ravishing.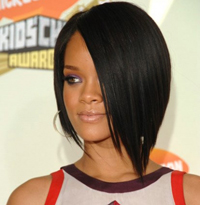 Pull your hair into a low, loose ponytail and wrap an elastic around the bottom tips. Roll up the length of the tail until it's chin level.
Secure it with bobby pins underneath and use sparkly ones on the side. If your hair is straight all around, it'll look like you have a clean, classic bob.
If you have layers, the front pieces will fall out naturally for a wispy effect.