If you've ever purchased Freeman's Black Sugar and Charcoal Polishing mask, you've probably fallen in love with it! The black sugar in the mask is super grainy which makes it the perfect mask for getting rid of impurities. The charcoal powder works to detox the skin and leave it silky soft and glowing. So of course we thought….what if we could make our own?!? This DIY black sugar and charcoal polishing mask is a duper of Freeman's but without all the dyes, preservatives, and whatever other unpronounceable ingredients reside in there.
DIY Black Sugar and Charcoal Polishing Mask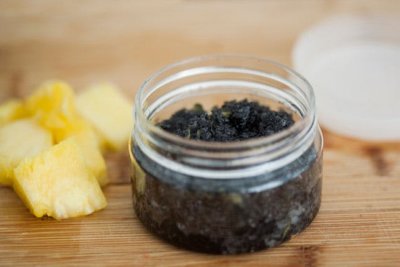 The first ingredient we needed of course was black sugar.
What is Black Sugar?
Black sugar is a common ingredient in Asian cuisine, especially in Taiwan. It's a much healthier alternative to brown sugar, and is often used for its many health benefits including to relieve menstrual cramps. So why should you use black sugar instead of brown sugar for this DIY black sugar and charcoal polishing mask, you ask?
Well mainly because we're trying to replicate Freeman's mask, but also because black sugar, unlike processed sugar, contains molasses, potassium, iron, calcium, and other minerals. This makes it an excellent candidate for DIY masks because it imparts all of those vitamins and minerals right to the skin.
You can find black sugar on Amazon, but if you don't feel like purchasing this type of sugar, you can use brown sugar in this recipe as well!
Ingredients:
1 cup black sugar (or brown sugar will do as well!)
1 tbsp coconut oil
3 activated charcoal capsules
Directions:
In a medium sized bowl, mix all ingredients.
Transfer to a clean jar or container and let sit for 1 hour before using.
How to Use:
Apply the mask to dry skin, covering both face and neck.
Leave on for 10-15 minutes.
Wet fingers and massage mask slowly into skin, going in circular motions.
Rinse off and pat dry.
Use once or twice a week.
Benefits:
Unclogs pores
Removes dead skin cells
Detoxifies skin
Moisturizes
Removes blackheads
If you like this post, don't forget to share 🙂