During these extremely cold, winter months, our skin needs a little TLC, and this DIY chocolate body butter is just the fix your skin needs! Made with delicious, natural ingredients, this body butter is as decadent as is effective. Apply it all over the body to hydrate cracked knees, elbows, and feet, and moisturize flaky skin. This DIY chocolate body butter looks and smells SO good, you'll seriously want to eat it (but please don't!).
DIY Chocolate Body Butter Recipes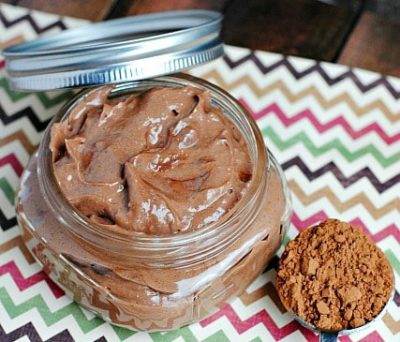 Ingredients:
Directions:
To a small pot, add the shea butter and coconut oil and heat on low until melted.
Remove from heat, and let sit until cooled to room temperature.
Scoop the mixture into a bowl and place in the fridge for 15-20 minutes.
Remove from the fridge and add the cocoa powder and mix well.
Use a hand mixer or a stand mixer and whip for 2-3 minutes or until stiff peaks form.
Scoop into a clean, airtight jar or container.
Body butter should keep for about 6 months. If you see any separation, simply whip or stir.
Apply as you would any body butter.
If you like this post, don't forget to share 🙂