This DIY chocolate coconut sugar scrub will seriously make you drool! In fact, it's SUCH a decadent sugar scrub that it's good enough to eat! Not only will this chocolate coconut sugar scrub make your skin smell like the most luscious coconut chocolate bar, but it will also leave your skin glowing from head to toe! Made with all natural ingredients like coconut oil and almond oil, this scrub will not only hydrate dry, parched skin, but will also prevent breakouts and leave skin glowing.
DIY Chocolate Coconut Sugar Scrub Recipe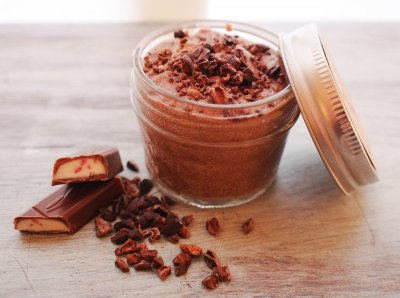 Ingredients:
1 cup brown sugar
1/2 cup coconut oil
1/3 cup almond oil
2 tbsp unsweetened cocoa powder
few drops of coconut extract or essential oil
Directions:
Mix all ingredients in a large bowl, and scoop into a clean, airtight jar or container.
If giving away as a gift, top with a few coconut flakes and chocolate chips.
Store in a dark, cool place.
How to Use the DIY Chocolate Coconut Sugar Scrub:
Use 2-3 times a week in the shower to slough off dead skin cells, and reveal smooth, glowing skin.
Rub onto wet skin in slow, circular motions, concentrating one extra dry spots like elbows, knees, and feet.
If you like this post, don't forget to share 🙂