If you're as obsessed with Lush products as we are, you're probably also a big fan of DIY masks! So we set out to find the best and easiest DIY Lush Cupcake face mask that you can actually make at home. This is a super fun project that's perfect for teens, or a girls' night in, or anyone who loves making their own beauty products! This DIY Lush Cupcake face mask dupe is easy to make, will save you a ton of money, and most importantly, will leave your skin super soft and silky. This mask is designed for those with oily, acne prone skin, but also works on any other skin type to leave it glowing!
DIY Lush Cupcake Face Mask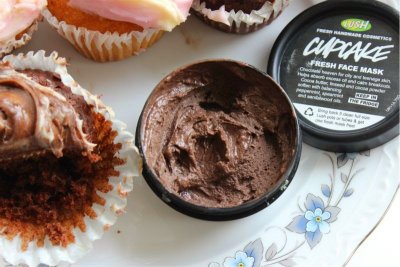 Ingredients:
4-6 mint sprigs
1 tsp clay powder
1 tsp cocoa powder
3-4 drops sandalwood oil
1 tsp cocoa butter
1/2 tsp glycerin
rose water (add a little bit at a time while blending, until a mask like consistency forms)
1/2 tsp honey
Directions:
In a blender or food processor, add all of your ingredients and pulse until everything is combined.
Scoop the mixture out into a bowl and apply all over face and neck.
Leave on for 15-20 minutes, or until mask has dried.
Wash off and pat dry.
Use twice a week for bright, clear skin.
This DIY Lush Cupcake Face Mask recipe will yield one mask. If you wish to make more, simply adjust the ingredients. This mask will look, smell, and work exactly like the Lush one, and will cost you a fraction of the cost!
If you like this post, don't forget to share 🙂