We love ALL things Lush and today, we're going to show you how to make one of our favorite Lush products: the Lush lavender bath bomb. This DIY Lush lavender bath bombs recipe is an almost exact replica that is made entirely of natural ingredients and will make any bath feel like a luxurious spa day!
DIY Lush Lavender Bath Bombs Recipe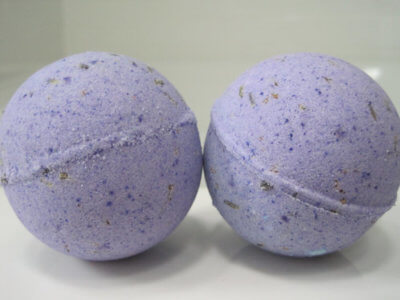 You'll Need:
1 cup citric acid
1 cup baking soda
1/2 cup cornstarch
1/2 cup melted coconut oil
8-10 drops lavender essential oil
molds
red and blue food coloring to make purple (optional)
Directions:
In a medium sized bowl mix citric acid, baking soda, and cornstarch.
If you're using food coloring, now would be the time to add it. Add a few drops of red food coloring and mix. Then, add blue food coloring, one drop at a time and mix until you get a lavender color.
In a separate bowl, combine your coconut oil and your lavender essential oil.
Slowly and while mixing, add the oils to the dry ingredients bowl. Make sure to only add a little at a time, while stirring, otherwise the citric acid will react with the oils and your bath bombs will be ruined.
Use your hands to slowly knead your mixture until the ingredients start to clump together.
Scoop the clumpy mixture into molds or cupcake liners and press down tight.
Let the bath bombs dry for at least 24 hours.
After 24 hours, drop a bath bomb into a running bath and enjoy!
Notes:
Citric acid is the ingredient that will give your bath bombs the fizz.
It can be found online, such as on Amazon, or in your local grocery store's canning isle.
This recipe yields about 4 medium-sized bath bombs, but you can make smaller or bigger ones depending on the size of your molds!
If you don't have silicone molds, you can use any plastic mold, just be sure to rub some coconut oil into the mold before pouring, so you can easily pop them out when you want to use them!
If you like this post, don't forget to share 🙂