Rosewater is one of the most beneficial and versatile beauty ingredients you could use. Not only does rosewater smell like well…roses (obvs!), but it also has a slew of hair and skin benefits as well! Rosewater can be purchased online or from your local beauty store, or you can make your own rosewater with just a few ingredients! Whichever way you decide to go though, rosewater should seriously be part of your regular beauty routine as the benefits are innumerable! This DIY rosewater spray has a TON of uses and once you make it you'll be using it on skin, hair, and nails on the regular!
DIY Rosewater Spray Recipe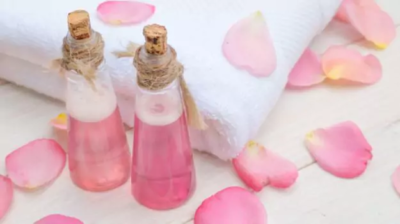 Ingredients:
4 oz distilled water
2 oz witch hazel
2 oz rosewater
rose petals (optional, for prettiness only!)
You'll Need:
7 rose stems
1.5 L distilled water
Directions:
Start by removing all the rose petals off of the stem and rinse them under warm water to remove any dirt.
Add the petals to a large pot and cover with distilled water.
Over low-medium heat, bring the water to a simmer and cover.
Let this simmer for about 20 minutes or until your water has turned red and the petals have almost lost their color.
Strain the mixture to separate the petals from the water.
Discard the petals and pour your liquid into a glass jar or bottle.
Store in a closed, glass container in the fridge.
How to Make Rosewater Spray:
Combined 4 oz distilled water, 2 oz witch hazel, and 2 oz rosewater in a spray bottle. Shake well to combine and add a few rose petals if you want!
How to Use the DIY Rosewater Spray:
This DIY rosewater spray can be used for literally anything! Simply spray onto any of the areas below to fix things in a pinch!
Spray on skin to balance pH and reduce acne
Use on armpits to reduce irritation and smell
Makeup setting spray
Use instead of hairspray
Skin soother
Under eye bags and puffiness
Soften cuticles
Like this post? Share and Pin 🙂