Have you ever walked into a kitchen or bakery while an apple pie was baking in the oven with the sweet smells of baked apple and cinnamon wafting through the air and thought, "I just want to be all up in that apple pie right now?!" Well, here is a simple DIY for an apple pie body scrub recipe to make those dreams come true. It's like taking a drive to grandma's farm on a cool, crisp fall day, but with added benefits for your skin!
First and foremost, applesauce isn't just for babies and adults with broken jaws. It is full of vitamin C which nourishes skin cells and may help reverse UV damage. Apples are also loaded with malic acid which works as an immunity booster and detoxifier, all while promoting skin elasticity.
When it comes to sugar, select what best suits your skin and/or desired effect. Brown sugar, for example, is softer and ideal for sensitive skin and the face. Raw sugar and white sugar are both coarser and work well to exfoliate the body.
Coconut oil is a great moisturizing agent as well as being antimicrobial and antibacterial so can further aid in detoxifying while leaving skin healthy and happy.
Apple Pie Body Scrub Recipe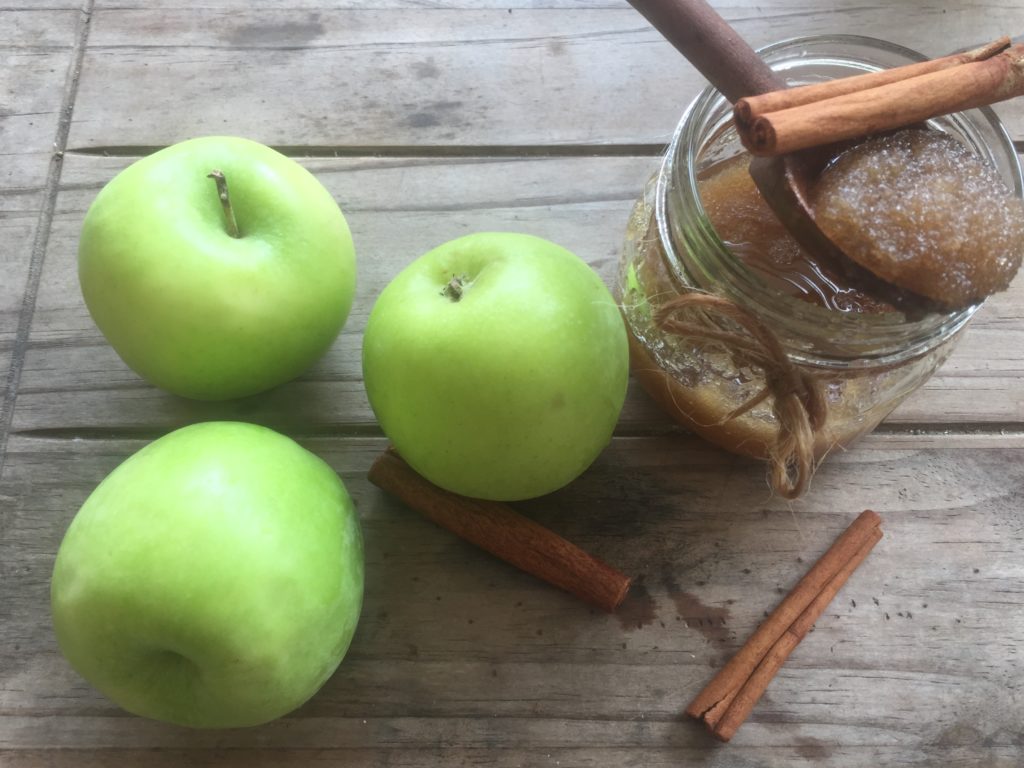 What You Need:
4 oz jar
1/4 cup coconut oil
2 tbsp natural applesauce
2 tbsp white sugar (or brown sugar for sensitive skin)
Pinch of cinnamon
Directions:
If the coconut is solid, first heat it to an oil form. Next, combine coconut oil and remaining ingredients in a mixing bowl and stir until all of the clumps are smoothed out and it is a consistent paste-like texture. Transfer to the 4-ounce jar and close the lid tight. Keep in the refrigerator before using to let cool.
To Use:
In the shower or bath first rinse with warm water. Next, massage the scrub in a circular motion over the entire body and rinse well.
Use this apple pie body scrub recipe 2-3 times a week for super, soft smooth skin and let the crisp, apple pie scent take you away!
Like this post? Share, Pin, and Comment Below 🙂