If you've been here before, you may have noticed my obsession with all things Lush as well as how to duplicate them. Lush gives a whole new meaning to bath products, but unfortunately, my bank account doesn't agree. So what's the next best thing? Make it yourself of course! We ARE in the DIY era, so why not try to replicate some of Lush's best and most coveted bath products? Today, we're going to replicate Lush's shower jelly recipe. It's easy, super fun, and best of all, CHEAP! You can also involve your kids in this project! So here's the DIY Lush Shower Jelly Recipe!
Homemade Lush Shower Jelly Tutorial
You'll Need:
2 packages unflavored gelatin
3/4 C boiling water
1/2 cup castile soap
30 drops essential oils (your choice!)
body safe coloring (optional)
body safe glitter (optional)
1 tsp salt
molds to pour mixture in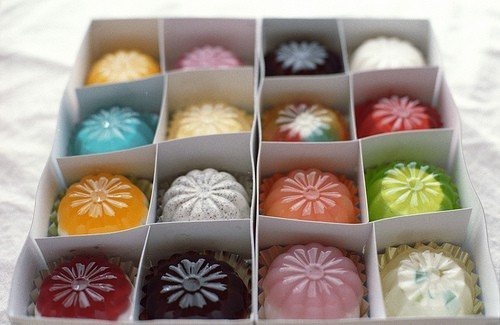 Directions:
Place your molds onto a cutting board so they're easier to move once the liquid is in. Sprinkle inside of molds with glitter.
Pour gelatin packets into boiling water whisking until completely dissolved.
Add the soap, essential oils, and coloring to the gelatin mixture, stirring well.
Stir in salt, and pour mixture into molds.
There might be air bubbles, so spritz them with a bit of alcohol.
Refrigerate uncovered until hardened.
And there you have it! A DIY Lush shower jelly recipe that's fun, easy to make, and oh so very cheap! You can store your jellies in the molds, or you can pop them out and store them in a clean, glass jar.