You no doubt know by now that turmeric is one of those spices that do a world of good not only for your insides, but for your outsides as well! Turmeric face masks are some of the best face masks you can make and will leave your skin glowing! So if turmeric leaves your face clear and glowing, imagine what it can do for your body! These homemade turmeric scrub cubes are SO easy to make and will leave your skin glowing from head to toe!
Homemade Turmeric Scrub Cubes Recipe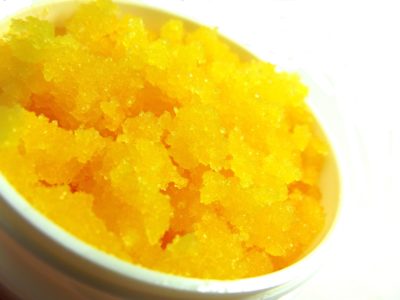 You'll Need:
1 3/4 cups granulated sugar
1 tbsp kaolin clay
1/2 cup coconut melt and pour soap
1 tbsp turmeric powder
3 tbsp oil of your choice (olive, coconut, almond, etc…)
20-30 drops miraclo glo oil (optional)
20-30 drops orange essential oil
1 tbsp glycerin
1/4 cup calendula petals (optional)
silicone mold
Directions:
Mix all of the dry ingredients together, except for the calendula petals if using.
Then, add in the rest of the ingredients (the wet ingredients).
Use gloves or a wooden spoon to mix all of the ingredients together so you don't stain your hands.
If you're using calendula petals, sprinkle some of the calendula petals at the bottom of your silicone molds.
Now scoop the mixture into the molds and press down firmly.
Let dry for a few hours and pop them out!
Use them in the shower by scrubbing them in slow, circular motions against wet skin.
Rinse off and pat dry!
These homemade turmeric scrub cubes will exfoliate skin, leaving it super soft and smooth.
The turmeric in this recipe will also leave the skin glowing!
Like this post? Share and Pin 🙂