There is literally NOTHING funner than making your own scrubs…especially when they come in cube form! These sugar scrub cubes look good enough to eat, but we don't recommend that. Used to slough off dead skin cells, these sugar scrub cubes will save you a ton of money and you'll have fun making them!
Make Your Own Sugar Scrub Cubes Tutorial
You'll Need:
6 oz granulated sugar
2 oz sweet almond oil, avocado oil, or grapeseed oil
3 oz white melt and pour soap base
food coloring (optional)
a few drops of your favorite essential oil
exfoliant of your choice, such as poppy seeds
The Drill: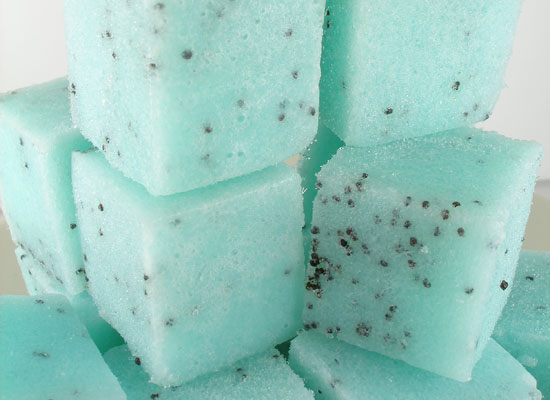 In a microwave safe bowl, melt you White melt and pour soap base in the microwave for about 20 seconds, until melted. Be careful so that it doesn't boil though!
Stir your mixture.
Add your essential oils and stir well.
Next, add your food coloring if using. Make sure to only add a little at a time, until you get your desired color. You can always add more, but you cannot remove. Stir well.
Stir in your sweet almond, avocado, or grapessed oil.
Now add in your sugar and stir very fast until completely mixed.
Add in your exfoliant if you're using one.
Quickly pour into a cube mold or any other molds you may have. Do this very quickly as this will set fast!
Let set at room temperature for about one hour.
Pop out of your mold and use! Can be stored at room temperature.
These make amazing gifts, as they're cheap, but look oh so pretty! Stack them in a pretty jar or some cellophane and you're good to go!
If you enjoyed this post, don't forget to share 🙂