Nothing says summer like a nice, cold glass of pink lemonade, so why not turn that refreshing drink into a refreshing body scrub? This DIY pink lemonade sugar scrub only uses 4 ingredients and will make your skin silky smooth from head to toe. The sugar in this recipe will gently slough off dead skin cells which can accumulate over time, resulting in flaky, dull skin. The coconut oil will work to moisturize and add a beautiful sheen to dull skin, while the lemon helps to brighten the skin by bleaching dark spots and uneven skin tone. Last but not least, our favorite ingredient is the Kool-Aid pink lemonade because it's pink and will give your pink lemonade sugar scrub that awesome lemonade smell! Let's dive in!
DIY Pink Lemonade Sugar Scrub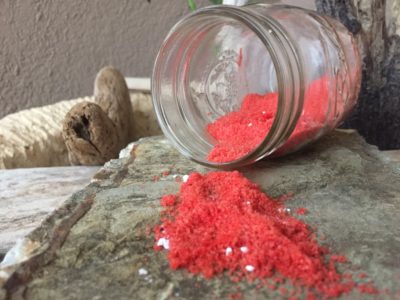 You'll Need:
2 cups white sugar
2/3 cup coconut oil
2 packets Kool-Aid pink lemonade (of course, you can also do a completely different flavor!)
juice of 1 lemon
Directions:
In a large bowl, combine the sugar and the Kool-Aid and mix well.
Then, add in your coconut oil and mix until a scrub-like consistency has formed.
Lastly, squeeze in the juice of 1 lemon and stir until well combined.
Scoop scrub into an airtight container or jar.
Usage:
Use in the shower, just like you would any other sugar scrub in slow, circular motions. Rinse off and pat dry. The sugar scrub will last for about a month, but we guarantee, you'll use it up way quicker than that!
If you like this post, don't forget to share 🙂