Last Updated on
Knee-high boots have been around for a very long time. Weather it's a flat boot, a pointy boot, a very high-heeled boot, a platform boot, and even a square heel boot, it's all the same because we love knee-high boots!
The second you pair an outfit with some knee-high boots, everything changes. Your outfit suddenly looks sexier and more put together. So what are some of the hottest knee-high boot styles this fall?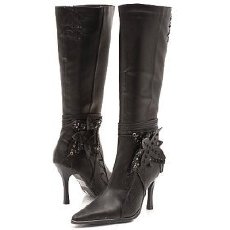 We will still be seeing the pointy knee-high boots, as well as the platforms boots (which are super comfortable). Basically, anything goes as long as you pair it with the right outfit. For pointy boots, pair it with skinny jeans- they will look unbelievable.
Platform boots will go well either over the jeans or with a jean skirt and a nice long sweater.
Ugg boots are also back in which is great for the casual look. Wear them over a pair of skinny jeans and even with a miniskirt.