Last Updated on
Do you love Sarah Jessica Parker's style as much as we do?!? From Sex and the City all the way to the big screen, we salute you style icon! I was absolutely disappointed when I saw a site bash Sarah Jessica Parker's outfit seen below which she wore to the 2008 MTV Movie Awards. I mean you can't insult the queen of fashion statements – that's what she does! Granted, I couldn't pull this off myself, but then again I'm no SJP. So what do you think?
Sarah Jessica Parker: My Fashion Icon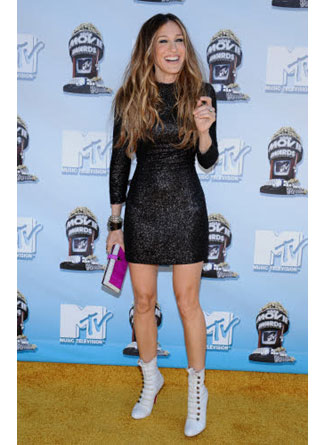 First off, I love her curve-hugging long-sleeve dress  – it looks amazing on her! And of course the white booties are her fashion statement, which people didn't really seem to like. But in all fairness, she took a risk and I think it worked for her. Put this on Jessica Simpson though and I'm not sure that would go.
To read more fashion related posts, check out our Fashion Blog!
If you like this post, don't forget to share 🙂