Let your wild side show this season with the most unique jewelry around. Cool shapes and cuts are coming out this fall and you won't want to miss a beat!
Interesting cuts and figures are chic ways to modernize accessories.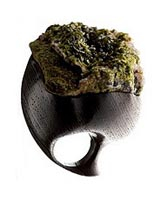 This beautiful natural-looking ring has a unique shape to it that will spice up your outfit. Wear it with jeans and a tee.
Any pieces that are stuck together with different fabrics and shapes is a great way to kick-start your unique jewelry collection.
One of the hottest things right now is the leather that is incorporated into jewelry such as necklaces. It's is very trendy as well as unique.
3 comments
Click here to add a comment
Leave a comment:
---
Latest posts