Waist slimming dresses are dresses that will slim down your waist and will also naturally enhance your figure.
The holidays are fast approaching, so you need to make sure that your dress is not only cute and trendy, but that it also looks good on you. While it might look good on a model, not everyone is built the same so you must find right the dress that will fit your figure.
Below, we've compiled a list of waist slimming dresses for every body type!
Waist Slimming Dresses
#1. Waist Slimming Dresses for the Strawberry Body Shape
A strawberry body shape is one that is wider on the top (so wider shoulders) and smaller on the bottom. For those with this shape, we recommend wrap style dresses (which should be a wardrobe staple in any woman's closet!). This is because a wrap style dress will draw attention away from the top and focus it onto the waist, which is slimmed down by the belt or wrap. A v-neck styled dress is also slimming for a strawberry figure, and will draw attention down instead of up. Lastly, skater style dresses are extremely flattering on the strawberry body shape.
#2. Banana or Straight Body Shapes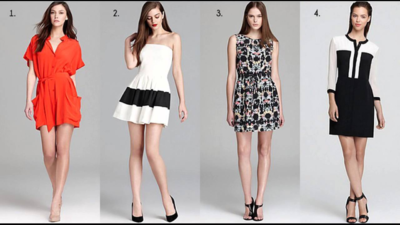 Those with a banana body shape are about the same width from shoulders to hips. Choose shift dresses, empire waist dresses, and A-line dresses, which are very flattering on this body type. Off-the-shoulder, one shoulder, and halter style dresses are also very slimming on the banana body shape because it creates the illusion of a wider shoulder.
#3. Slimming Dresses for the Pear Shaped Bodies
Those with pear shaped bodies are wider on the bottom than they are on top. Balance this out by opting for off-the-shoulder dresses, and dresses that have detailing along the bust. Sleeveless dresses will also balance a pear shaped body, as well as belted dresses which accentuate the waist. A wrap dress is also a great choice for a waist slimming effect.
#4. Waist Slimming Dresses for Apple Shaped Bodies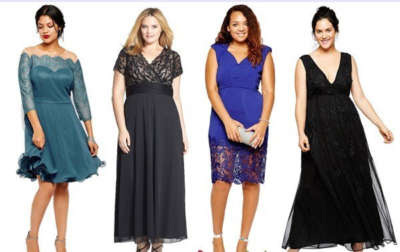 Those with apple shaped bodies are usually wider in the middle. Draw attention to your bust with a V-neck dress which will take the attention away from your middle area. A-line dresses are also a good option because they draw the eyes towards the legs. A shift dress is a great option as well as it will hide a tummy bulge. Dresses with full, voluminous skirts will help slim down wide shoulders.
#4. Hourglass Figures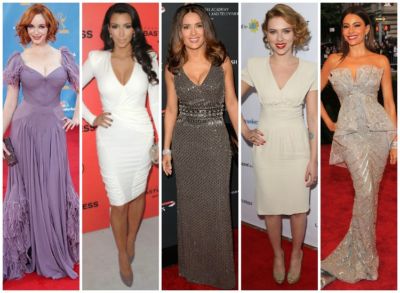 Those with an hourglass shaped body have a tapered waist. Geometric patterned dresses will help to accentuate an hourglass shape. Wrap dresses and belted dresses will also enhance the look of an hourglass figure. A-line, knee-length skirts and dresses also complement this body shape.
A Few Notes:
Drapey fabric such as a Greek styled dress may add bulk to your sides, where you least want it. Instead, opt for a corset dress with dark panels which will give the illusion of a tiny waist.
Horizontal lines will add tons of pounds to your silhouette, so try to stay away. Instead, pick a dress with a sash at the waist which creates a more feminine silhouette.
A gathered blouse and a high-waisted skirt will thicken you ( it only looks good on super-skinny people!). A stretch fabric dress will melt away pounds right in the middle.
Tiered, flowy fabrics add volume and will make you appear broader. A belt at your waist weather you're wearing a dress or a skirt will accent your most narrow part.
Like this post? Share, Pin, and Comment Below 🙂