Wrap dresses have been all the rage this season, and they'll still be one of the hottest items once summer arrives. Wrap dresses are amazing because you can arrange them on your body accordingly. Too tight? Loosen them up a little. Not tight enough? Tie them tighter. It's as simple as that!
Check out this wrap dress from Esprit, only $79. It's best suited for larger shapes as it's got a dark, matter color and it's a little longer. This wrap dress look good on any one. Pair it with some peep-toes or a pair of stilettos and you'll look like you just stepped out of a magazine!
I absolutely love this next dress from Ella Moss. Although a little more expensive, $190, this dress flatters lean, boyish figures, giving you some much needed curves.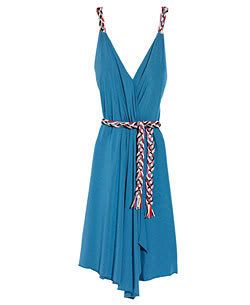 This last beautiful wrap dress comes to use from Jones New York and you can get it for $134. It's perfect for any occasion weather you want to wear it to work, on a night out, it's perfect all around. Wear a big tote with the dress, and some high heels and you'll look absolutely fabulous!