This DIY hair grow mask uses natural and powerful ingredients to target the root problems of thinning, non-growing hair. Made with aloe vera, castor oil, and vitamin E oil, this DIY hair grow mask will treat scalp issues such as dryness and irritation which is the number one cause of thinning, breaking, and weak hair. For those with thin, breaking, and slow growing hair, this method works AMAZINGLY and we know because we've tried and tested it over a 3 month period! After just the first month, we saw an incredible difference in hair health, thickness, and length.
Depending on how often you use this hair grow mask, your hair could grow as much as 1-2 inches per week! If at all possible, try to use this mask at least 3 times a week for 1-3 months for best results.
DIY Hair Grow Mask Recipe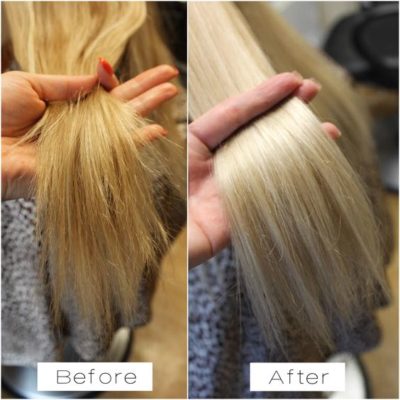 Ingredients
Castor Oil:
Rich in omega-9 fatty acids, castor oil is one of the most revered oils when it comes to hair growth.
Hydrates and moisturizes dry, brittle hair.
Prevents dryness.
Promotes healthy hair growth.
Strengthens weak hair.
Aloe Vera:
Aloe vera is a natural soother which makes it an excellent candidate for thin hair which may be dry and over-processed.
Repairs dead skin cells on the scalp which encourages faster hair growth.
Conditions dry hair.
Prevents and stops itchiness.
Reduces dandruff.
Promotes healthy hair growth.
Strengthens hair follicles.
Vitamin E:
Vitamin E is a natural antioxidant and moisturizer which is essential to dry, brittle hair.
Helps to repair are rebuild tissues.
Reduces inflammation.
Repairs damaged hair follicles.
Promotes hair growth and hair strength.
Directions:
Mix 3 tbsp castor oil, the juice from one aloe vera leaf, and 10 vitamin E capsules in a bowl until well blended. Apply to dry hair starting at the roots and working through to the ends. Massage mask gently into scalp in slow, circular motions for 3-5 minutes to get the blood flow moving.
Leave on for at least 15 minutes, but the longer you leave it in the better! If you can, leave it on overnight.
Wash out and follow up with shampoo and conditioner.
Repeat 3X a week.
Like this post? Share and Pin 🙂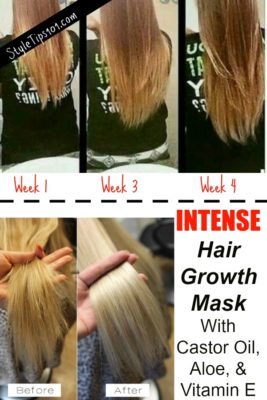 Click here to add a comment
Leave a comment:
---
Latest posts