Celebrities often sport the cutest ponytails ever and we can never seem to get the right formula. Where does all that volume come from? How does the hair stay like that? Whatever you've tried to do before, and failed miserably, I understand, and I am here to help you. I've finally found a fool proof celebrity ponytail style that actually works!
Get Jessica Simpson's Super-Sleek Ponytail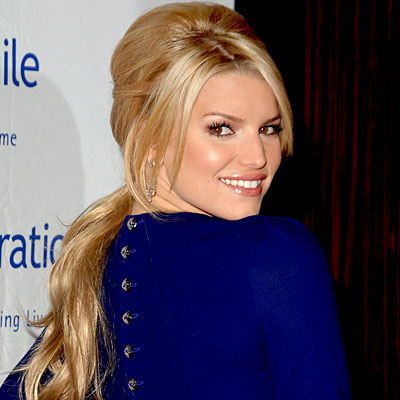 This is Jessica Simpson's sleek, posh, ponytail! Cute, isn't it? And why wouldn't it be after stylists spent hours creating that? But don't worry, you can rip off her look in a matter of minutes!
This style is basically a new take on the high-low hair trend. The ponytail has tons of volume on top but is super sleek at the bottom- giving your hair exactly what it needs in the right places!
Start off by blowing out your hair, then back-comb sections around the crown to build height. Smooth over your hair in front with a fine-tooth comb. After you've smoothed everything down, gather all of your hair into a ponytail at the base of your neck.
Finish off by pulling out some pieces to frame the face and add a little bit of anti-frizz cream throughout the tail. And now you are ready to look, if not party like, Jessica Simpson!
To see more hair posts, check out our Hair Articles!
Like this post? Please share 🙂