When your hair is supposed to be curly but it comes out frizzy it not only looks unkempt, it can make you look older! Today we'll show you how to go from frizzy to curly in a pinch!
Go From Frizzy to Curly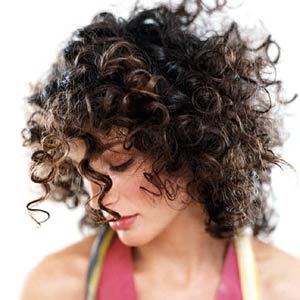 Humidity is often the cause of the frizzies; since there's not much you can do about the weather, use products that contain silicone and try to make the best of it. Still frizzy even when it's not damp outside? You might be handling your hair too much. After you wash your hair, gently squeeze out excess moisture with a towel — never rub!
When you blow-dry, use a round natural-bristle brush (after your hair is partially dried), and be sure to dry your hair completely. During the day, don't brush your hair — just use a wide-toothed comb when necessary or, better yet, use your fingers. Silicone serum, styling wax or pomade will also help tame the frizz.
Heat helps conditioner to penetrate more deeply into your hair. Wash or wet your hair, gently squeeze out the excess water, apply a good conditioner and put on a plastic cap.
Then sit under a warm hood dryer, if you have one, for about 20 minutes, or wrap a towel around your head and leave the conditioner on for at least an hour, or even overnight. Be sure to rinse well.
If you tend to have staticky, "flyaway" hair, add a little moisture. Start by applying a lightweight finishing cream or leave-in conditioner on damp hair. If you are still prone to flyaways, try spraying hair spray or Static Guard on your brush before brushing your dry hair. The quickest fix of all? Smooth your hair with a dryer sheet. After all, static is static.
Did you enjoy this post? Why not share it 🙂