Last Updated on
When using strong colors such as blue and green, make sure to limit yourself to a single bold statement. For example, if you'll be wearing green/blue eyeshadow, play down the rest of the color on your face. That said, always take into consideration your skin tone, your hair color, and whatever you're wear that day. Here are some straightforward guidelines.
Brunettes
Brunettes can get away with beautiful colors such as emerald and turquoise. The contrast with neutral brown hair can be really sexy.
Blondes
Blondes with fair skin have to be a little cautious with brighter blues and greens to avoid overpowering delicate coloring. A navy liner would be perfect on top of sheer pastel hues and pale opaque tones.
Redheads
Earthy greens look amazing on warm-toned redheads. Cool blues and aquas will suit those with a pink complexion.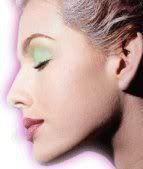 Dark Skin
Dark-skinned women have the most freedom when it comes to colors. You can choose anything from bright tones like teal or emerald or classic colors in navy or green.
Olive Skin
Olive-skinned girls should choose wisely when picking their greens. Avoid the medium blues, and stick to blues with a light tonal value or deep, rich tone.
Asian Skin
Blue counteracts yellow tones in skin. Olives and yellow-greens look great on Asian women and can work in place of brown and taupe.