Last Updated on
There is nothing more relaxing than a holiday inspired bubble bath, with the works of course. Candles, a little music, some bubble bath, bath salts- anything you can think of. Here's some loot that will make your bath time even more delicious.
These bath bubble are absolutely to die for. Not only do they make great gifts, but most likely you'll want to keep some for yourself. Fruits and Passions Fruity Foaming Bath Gift Set includes seven bath balls (grapefruit guava is my fave!).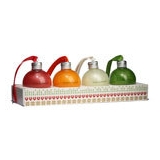 While in the bath, why not revive your skin too? Vitamin-packed beads will revive your skin for an all day beautiful skin glow. Elizabeth Arden Ceramide Gold Ultra Restorative Capsules Intensive Treatment are $68 but they work- you won't be disappointed.

Smell great with the perfect scented soap! Freesia is my favorite and they're so adorably packed! Fresh Original Soap in Freesia, $14!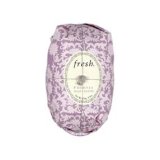 Click here to add a comment
Leave a comment:
---
Latest posts