Today we're gonna take a quick look at Revlon's Nail Art neon polish!
Revlon Nail Art Neon comes in a tube-like container with two colors:  white for the base, and another color of your choosing (whether it be pink, blue, yellow, green, purple, etc). The white is supposed to make the colors pop, so that's why you need to use it as a base coat.
So I bought the Revlon Nail Art Neon polish in Fuchsia Shock because I'm a huge fan of pink, and frankly, I just wanted to see what this new gimmick would be like. At first I was super excited, thinking that this would be the brightest neon shade I would ever try, but let me tell you – I was very very disappointed!
First off, I would like to let you know that my nails were perfectly clean and perfectly polished. I was in no rush, and I consider myself a pretty seasoned nail polisher. Needless to say, the application of Revlon's Nail Art Neon polish was just grueling.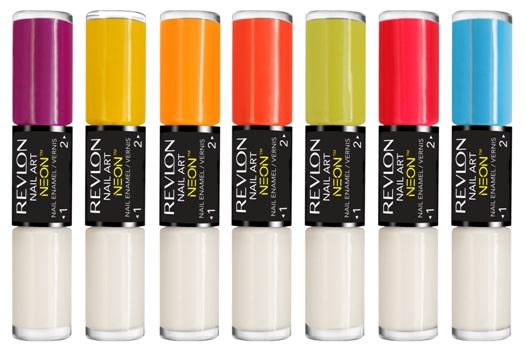 The white base coat went on extremely streaky. You only have to use one coat, but that one coat you do use is just really bad. Regardless, I didn't think that mattered much since the color would go on top anyways.
After applying the base coat, you must wait about 1 minute for it to dry. You can then proceed with your color; in my case the Fuchsia Shock. Directions say to apply two coats (and remember you must work very quickly!), but I found I actually needed three coats! What's worse is that the brushes are super tiny and really bad quality which makes the application very difficult, streaky, cakey, and just overall messy. You also have to be very careful of how you apply your color coat, since the white undercoat tends to be seen underneath if you don't do it perfectly.
So in total, I had to apply SIX coats of polish – my base coat, the white polish, three coats of color, and top coat. But what I found really annoying was the the more coats you put on, the less neon-y it would be. But without extra coats, it looked very messy and unfinished. Also, since neons tend to be matte, you usually have to apply a top shine coat to give it a little lustre.
In the end, neon was definitely NOT what I ended up with. At best, it was a meek attempt at a pinkish neon (which actually looked more orange than anything). Nice try from Revlon, but I will not be purchasing any other shades – I think I'll just stick to regular neon shades instead!
PRICE – Around $7.99 (depending on your location)
PACKAGING–  Convenient, Small, Portable
BRUSHES – Small, Bad Quality – Made for Very Difficult Application
POLISH COLORS – Not vibrant enough 
OVERALL RATING – Not worth your money – stick to regular neon polish