You've undoubtedly heard of Sally Hershberger, the amazing hair guru that can transform any type of dull, blah hair into something beautiful and vibrant. Well now Hershberger has come out with her very own products including shampoos, conditioners, and styling products which you can actually find at your local drug store.
Sally Hershberger's Style Primer for Normal to Thin Hair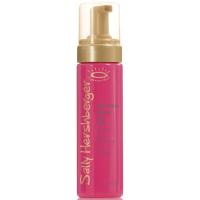 I decided to pick up her Style Primer for Normal to Thin Hair since I thought that was the best way to test the the product. The Style Primer promises to be a great primer for normal to thin hair, and I basically got to to see if it would improve the way my styling products worked together.
According to the label, the Style Primer does the following:
KEY BENEFITS:
Increases shine, gives fine hair guts and makes locks easier to style
Boosts performance of styling products
Easily layers with other styling products to create gorgeous, sexy hair
Provides a veil of thermal protection from hot styling tools
Prepares hair for styling
So did it work?  Well I applied it on damp hair, after which I applied a volumizing spritz. I blowdried my hair upside down about half-way through and then put all of my hair in rollers for extra volume. One thing I do have to say is that it helped my volumizer boost its performance since it gave me a TON of volume. It didn't leave my hair feeling sticky, caked with products, or oily which is a plus for me since I have such fine hair.
So do you really NEED this product? Well, just like anything else, you don't actually NEED it, but it sure is fun to add to your beauty collection. The bottle is cute and pink and I just had to have at least one Sally Hershberger product…just to test it out!
All in all, I give this product two solid thumbs up! It did exactly what it promised to do: gave my hair volume, worked great with my products, and gave me tons and tons of shine!