When is the best time to shop? So now that fall has arrived, you can slowly put your summer stuff away, but before you do that, make sure you take advantage of the incredible fall sales that are going on in pretty much every single store. Because summer has ended, stores need to get rid of their summer merchandise quickly to make room for fall and winter stuff. So what do you need to do?
Best Time to Shop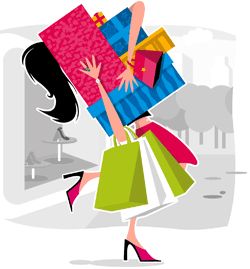 Well first, think about what you need. Even though summer is over, you'll get incredible deals on summer attire that you can wear next year. This is where the tricky part comes in because you don't necessarily want to get something that no one will ever wear again next summer, so you need to be conscious of what the classic styles are and what you can pull off at any time.
Things to look out for? Summer bags, sandals, wedges, stilettos, scarves, capris, shorts, jeans, etc. Cute summer dresses will also never go out of style, so you can rest assured that you'll still look fabulous next season. You can also stock up on tank tops which are great even in the winter under those picky, wool sweaters.
Also, make sure you hit up the stores on the weekends as there are bound to be more sales and check out the summer section where almost all of their merchandise will be on sale. Swimsuits are also a great item to get especially at the end of summer. Whether you're going on a winter trip or just planning to wear it next summer, make sure you can still fit into it by that time!
If you like this post, please share 🙂