If you're a fan of making your own face masks, you're likely very familiar with turmeric being used in a lot of beauty routines. But have you every asked yourself WHY turmeric is so beneficial? Turmeric is anti-inflammatory, and therefore can help reduce acne, scars, and oily skin. Its powerful properties reach deep into the skin to calm irritated skin, fight and reduce breakouts, and minimize pores. When combined with other ingredients, as you'll see below, turmeric can have different healing effects. Today we'll show you 3 turmeric face masks for every skin type: oily skin, dry skin, and sensitive skin.
3 Turmeric Face Masks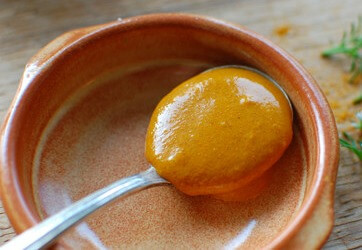 #1. Turmeric Face Mask for Oily/Acne Prone Skin
This mixture of turmeric, yogurt, and chickpea flour is a great one for targeting oily and acne prone skin by going deep into the skin cleansing, getting rid of bacteria, and reducing oil, blackheads, and breakouts. Use 2-3 times a week.
1 tsp turmeric powder
1 tsp yogurt
1 tsp chickpea flour
#2. Turmeric Face Mask for Dry Skin
The milk and oil will deeply hydrate the most parched of skins and leave you with super soft, glowing skin. Use 2-3 times a week.
1 tsp turmeric powder
1 tsp milk
a few drops of coconut oil
#3. Turmeric Face Mask for Sensitive Skin
This super cooling and refreshing mask is perfect for those with sensitive skin. The addition of rosewater calms irritated, sensitive skin, while cucumber and turmeric cleanse. Use 2-3 times a week.
If you like this post, don't forget to share 🙂