Our hands are one of the first to let us know that yes, we are getting old, and that time is passing us by. You may notice wrinkles around the joints, looser skin, as well as more prominent veins. There are tons of anti-aging skin creams and serums, but they can be pricey and don't always work. This is why we're pumped to introduce you to this DIY peel off hand mask which you can easily make at home for just pennies! Best of all, this DIY peel off hand mask works like magic! Made with milk and gelatin, the ingredients in this hand mask will leave your hands feeling softer than ever, but will also improve collagen, bring back elasticity, and plump up wrinkles.
DIY Peel Off Hand Mask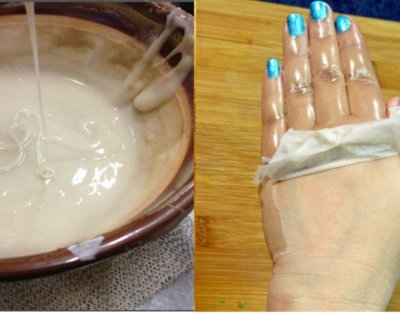 Ingredients:
2-3 tbsp milk
1 tbsp gelatin
Directions:
In a small bowl, add in your gelatin.
Heat up the milk on the stove top or in the microwave, just enough so that's it's warm but not super hot.
Pour the warm milk over the gelatin and stir until all gelatin has dissolved.
Apply the gelatin mask to clean, dry hands using a mask brush or a spatula. You may leave the fingers free so you can apply to the other hand as well as to peel off the hand mask.
Leave on for 10-15 minutes or until mask has dried and is ready to be peeled off.
Peel the mask in an upward motion and discard.
Wash off any extra mask that may have remained, pat hands dry, and follow up with a moisturizer.
Use 2-3 times a week.
Benefits:
Rejuvenates wrinkled skin.
Exfoliates.
Improves collagen production.
Promotes better blood circulation.
Leaves hands extra soft and silky.
Removes dark spots, stains, and sun damage.
Reverses fine lines and wrinkles.
If you like this post, don't forget to share!