Last Updated on
Taking care of our skin both night and day is a crucial step in achieving perfect, flawless skin. The most important thing when considering evening skin care, is to remove all traces of makeup and to apply a nighttime moisturizer to help skin regenerate and repair during sleep.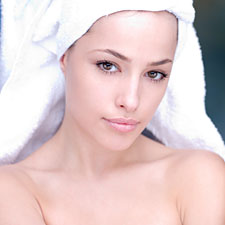 Start off by using a cream makeup remover. Apply a thin layer over your face, gently massaging it in. If you're using a liquid remover, use a cotton ball.
Remove all makeup from the eyes with a cotton ball. Don't apply pressure. Cleanse your face with either a lotion, cream, or liquid cleanser massaging onto face in a circular motion. Rinse well, and gently blot the face with a towel.
Apply either a toner or an astringent with a cotton ball to minimize the appearance of pores and remove any remaining residue from the face.
Last but not least, apply a rich moisturizer all over the face and neck. Apply an under-eye serum to hide puffiness and dark circles in the morning.