Last Updated on
You don't have to burn in the sun to get a beautiful tan. You don't even have to sit in a cramped tanning salon. In fact, you shouldn't do either of those things as they are very dangerous for your skin. Instead, opt for safer ways, that won't damage or age your skin!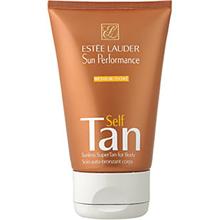 I am talking about self tanners. I know what you're thinking: streaks, orange tints, etc. But that doesn't have to be true. If you know exactly how to use self tanners, and which kind to get, you'll have a nice healthy tan, and no one will even notice.
First off, pick a good brand. Do not cheap out on self tanners. My personal pick is Estee Lauder Sunless. It doesn't leave streaks whatsoever, and it's very easy to apply since it's a spray tanner.
Before you do this though, make sure you exfoliate in the shower. Make sure to cover every part of your body. This will get rid of dead skin cells. If you do not exfoliate, the tan won't look smooth.
Make sure to dry your skin well, and start applying the self tanner. It doesn't matter where you start, just make sure you apply it evenly over your skin. Pay attention to places like knees and elbows, as the lotion tends to bunch up there, so use it sparingly.
For your face, do the same thing, but before applying the tanner, apply some face cream. This will ensure that the tanner stays on for longer, and doesn't leave any streaks. It gives it a more natural look.