Pores are just annoying. The problem is that if you don't treat them as soon as they appear, they get larger and larger. Especially if you have dry skin, enlarged pores can look even worse.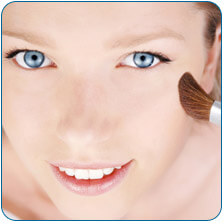 You can start minimizing your pores  by using a daily facial scrub such as St. Ives  Apricot Cleanser which goes deep into the skin to scrub and get rid of dirt as well as prevent breakouts.
Don't use any makeup which can clog your pores. If possible, use mineral or hypoallergenic makeup.  This will help you in your process of minimizing your pores. Get rid of all the makeup and products that you think might have a bad effect on your skin.
Facials are a very important part of your skin care routine. Choose a pore minimizing facial mask and use it once a week. Don't forget to use a light moisturizer after.
You can also use microdermabrasion as there are a lot of options out there, including numerous pore minimizing products.  And of course, you can always use skin-friendly makeup to hide your imperfections.