Perfect, flawless skin doesn't have to come at a steep price, nor should it be difficult to achieve! This homemade lavender face scrub ensures that you won't break the bank all while delivering perfect, flawless skin! Made with entirely natural ingredients, this homemade lavender face scrub is super gentle yet super powerful too controlling shine, oil, and preventing breakouts.  The ingredients in this lavender scrub are easy to get ahold of (your best bet is to purchase them online, such as on Amazon), and once you have them you can bet they'll last you for quite some time!
Homemade Lavender Face Scrub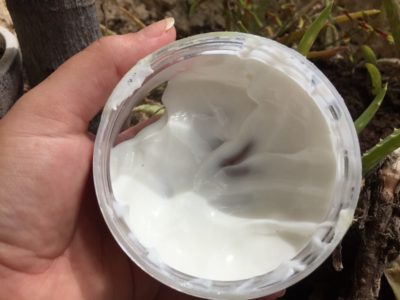 You'll Need:
Directions:
In a medium sized bowl, add the baking soda, clay, and coconut oil.
Use a stand or a hand mixer to whip up the mixture until stiff peaks form, or until the mixture looks like a whipped cream.
Then, stir in the essential oils and the rose water.
Scoop into a clean, airtight jar or container.
Use morning and night to cleanse, exfoliate, hydrate, and control shine.
Benefits of Homemade Lavender Face Scrub:
Hydrates dry, cracked skin.
Exfoliates gently.
Calms and soothes irritated skin.
Moisturizes.
Control over-production of oil.
Prevents acne and breakouts.
Erases dark spots and acne scars.
Like this post? Share and Pin 🙂