When it comes to homemade scrubs, the possibilities are endless and plentiful! Scrubs are a necessity for anyone who likes baby soft skin (and who doesn't?!) because they remove dead skin cells, dirt, and impurities to reveal ultra smooth skin. This homemade sea salt and baby oil foot scrub is perfect for dry, cracked feet and heels!
This DIY scrub is a simple fix that doesn't require much effort at all. Consisting of only baby oil and sea salt, it brings relaxation and moisture to the skin. While the sea salt removes dead skin cells and imparts minerals into the feet, the baby hydrates and moisturizes dry, cracked feet.
Homemade Sea  Salt and Baby Oil Foot Scrub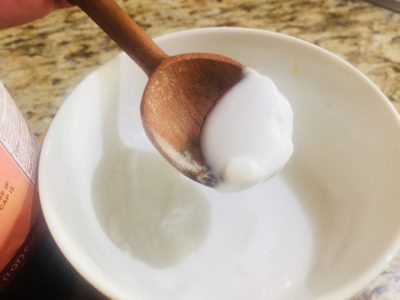 What you will need:
1/2 cup of crushed sea salt
2/3 cup of baby oil
How to:
In a small bowl, mix the baby oil and the sea salt thoroughly.
Put the solution in a pot or microwavable bowl and heat it up until it is a comfortable temperature. (If you are using a stove leave it over the fire for a minute or two, if you are using a microwave let it warm up for about 30-45 seconds.
Next, get in the bathtub and rub the warm sea salt and baby oil foot scrub all over your your rough feet and massage for a few minutes.
The baby oil and salt will get rid of imperfections and replenish and repair broken, flaky skin.
Once all lathered up, soak your feet in some warm water and rinse the scrub off.
This scrub can be used on feet, legs, knees and elbows. For a complete at home spa service, top off your pampering with a  layer of your favorite moisturizer or lotion. Your feet will be picture perfect and as soft as a babies bottom!
Like this post? Share and Pin 🙂