Last Updated on
Starting the day off with a clean, moisturized face is a priority for your skin to have the best start. Start by selecting a cleanser that suits your skin type, weather it's oily, dry, or mixed.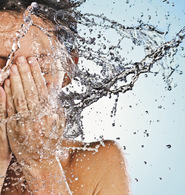 Start off by using either a lotion, cream, or liquid cleanser and rub in circular motion onto a wet face. Using gentle, circular motions will increase circulation and get the blood flowing giving you a healthy glow.
Rinse well, and gently blot your face with a clean towel. Don't rub the towel hard onto your face, especially around the eye area.
Exfoliate twice a week, using the same method as for a regular cleanser. To freshen up your skin, apply a toner that is appropriate for your skin type using a cotton ball.
Use an eye cream to reduce puffiness and dark circles. Apply in dots below the eye area and pat gently from the outer corner of the eye inward.
Lastly, moisturize your entire face. Apply in an upward direction from the base of the neck. Finish off with an SPF15 or higher, depending on your skin type and environment.