Last Updated on
At this point, everyone knows that staying out in the sun for too long will cause damage to your skin, not to mention premature aging, and all those other evil little things! Going to tanning salons is even worse, but still we all do it once in a while just to get a little color. Here are a few self-tanning methods that you can easily and safely use any time.
One of the best methods is the Mystic Tan. The Mystic tan offers you an airbrushed method, using a superpowered spray gun, that leaves you with a beautiful looking tan in four minutes. The only downside is that you must go back every couple of weeks as the tan starts to fade.
The other way to get a fake tan is to use aerosol spray cans. Because they spray such a fine mist, you can apply it anywhere with ease and it won't leave streaks.
Individual tanning towelettes are slowly making their way to the top. These pre-soaked tanning sheets can coat you with a tan on the go in seconds. Try L'Oreal Paris Sublime Bronze Self-Tanning Towelettes, $10.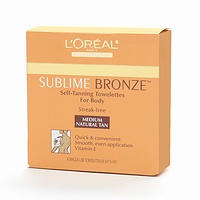 Last but not least, we have the mousses. Although you must be careful with mousse as it can leave streaks sometimes, but at least they dry fast and they're easy to use.