Acne and scars got you down? The Ordinary has got you covered! If you've never heard of The Ordinary, you're about to! Anyone that has any sort of skin concerns, including acne and scarring, should definitely try some The Ordinary products – we promise you will not regret it! The Ordinary is a skin care company that focuses on "clinical formulations with integrity". What this means is that all of their products are scientifically formulated using the latest materials and technologies, but without confusing the customer.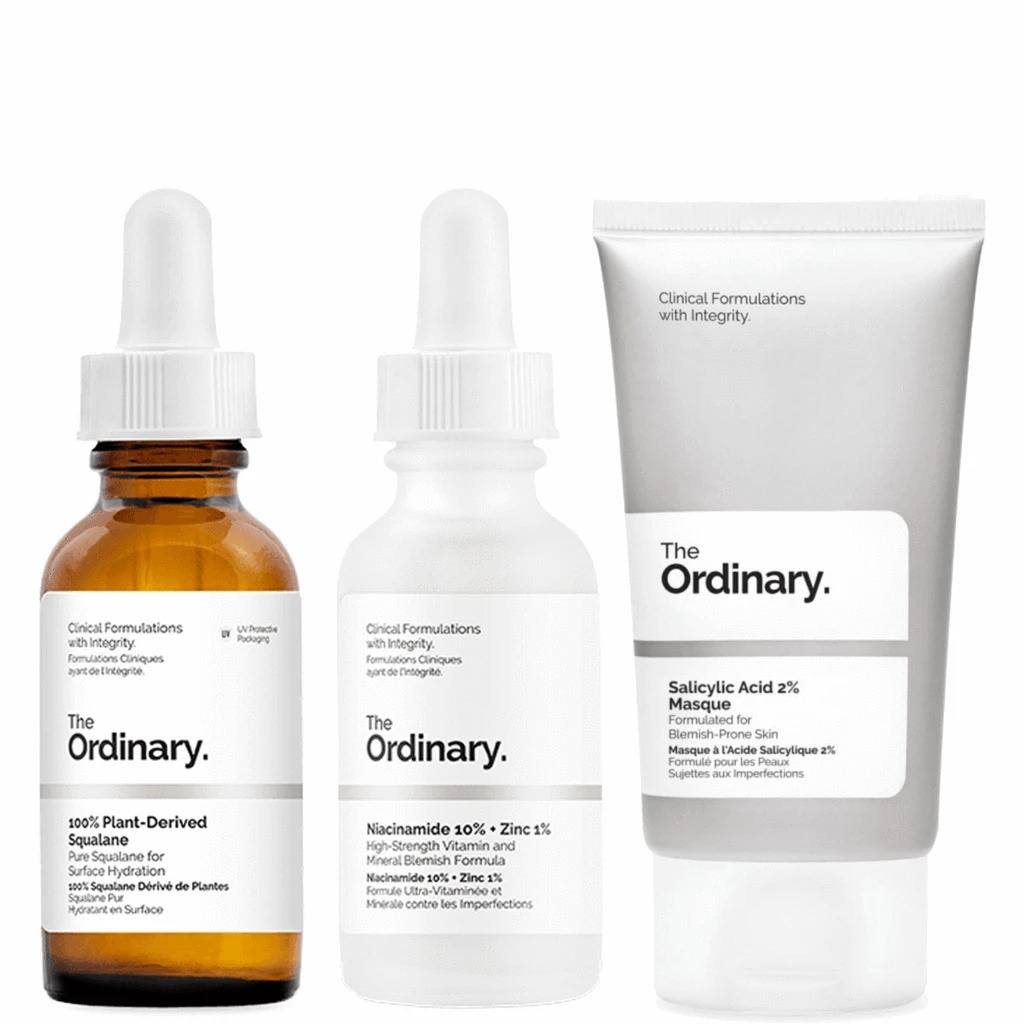 Basically, most of The Ordinary's products can be found in small vials, where you will find ONLY the pure product at a fraction of the cost of other brands. So, if you're looking for hyaluronic acid, you'll find PURE hyaluronic acid in a bottle and nothing else. This skin care company prides themselves and offering their consumers products with integrity, honesty, and fairness. In fact, most of their products average about $7, and if you spend a little time looking at reviews, you'll notice they have a HUGE fan base.
More so, The Ordinary products are free of parabens, sulphates, mineral oil, methylchloroisothiazolinone, methylisothiazolinone, animal oils, coal tar dyes, formaldehyde, mercury, oxybenzone. They also do not test on animals, and all products are made in Canada. So now that you know a little bit more about The Ordinary, let's get into some of their best acne products.
The Ordinary Acne Regimen
If you've ever been on The Ordinary website, it can seem a little confusing at first. There's a lot of terminology that a lot of people won't understand, but we're here to simplify this for you. Their main company, DECIEM, also offers other products, but for now, we'll just talk about The Ordinary acne targeted products. On the left hand side, you'll see a menu that contains all of their products. This is all great, but how do you know which products to use for acne?
We've done a lot of research and used just about every single product that The Ordinary has to offer in order to better help you with your skin woes. In terms of acne and acne scars, we've found the best combination of products that actually WORK. Within two weeks, we've noticed less breakouts, clearer skin, and within a month, we noticed diminished scarring. Needless to say, the results really excited us and so we're happy to share the EXACT regimen we used!
The Ordinary Acne & Acne Scar Products You'll Need:
Please note that the AHA BHA Peeling Solution & Azelaic Acid Suspension may not be available in some countries, such as Canada. While this may seem like a lot of product, keep in mind that the price point for most of these is around $7, and each bottle should last you anywhere from 2-4 months, depending on how often you use them.
Step 1: Niacinamide 10% + Zinc 1% – AM + PM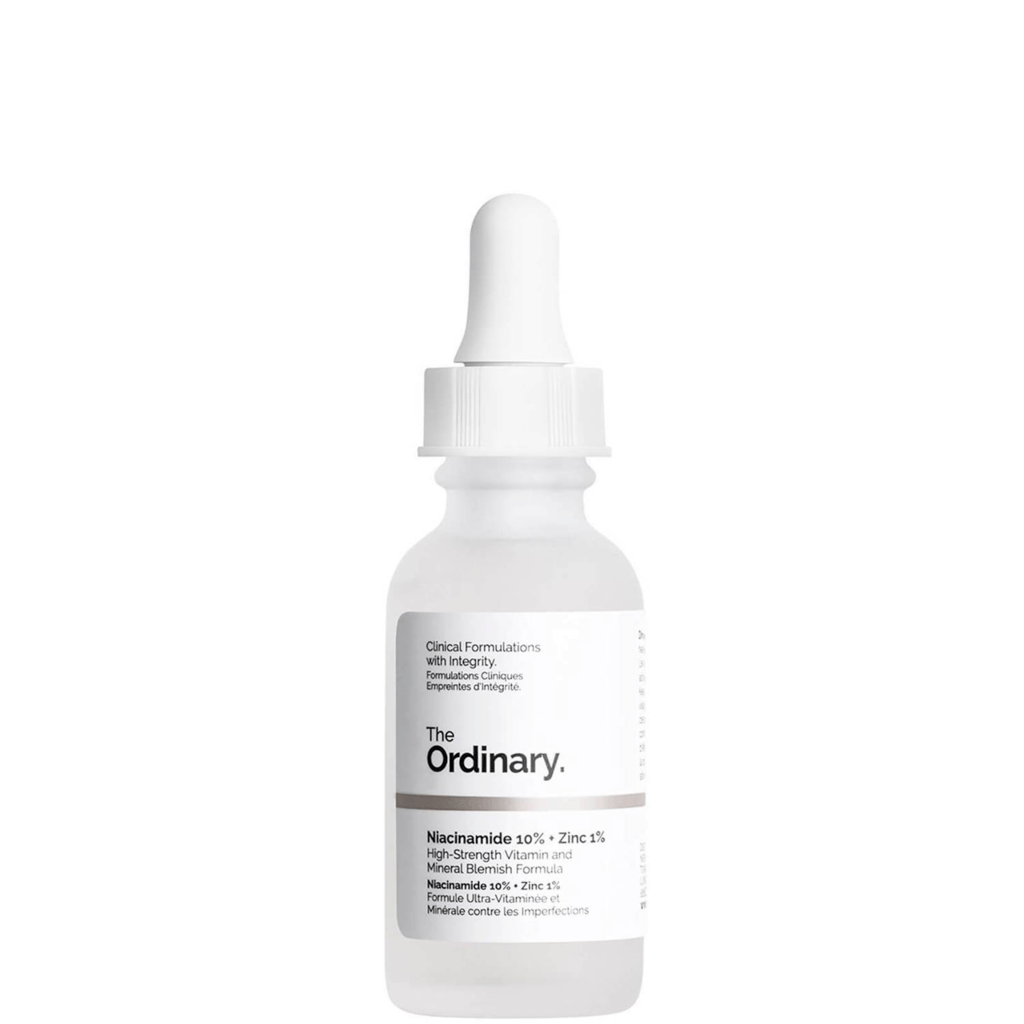 The niacinamide will be the first thing you'll apply to cleansed skin in the morning and at night. This is a high strength blemish formula which kills bacteria and reduces oily skin. It's a wonderful serum to apply both in the morning and at night, but you can also just apply it in the morning. For anyone that has very oily skin, this product will be a GAME CHANGER.
Niacinamide (Vitamin B3) is indicated to reduce the appearance of skin blemishes and congestion. A high 10% concentration of this vitamin is supported in the formula by zinc salt of pyrrolidone carboxylic acid to balance visible aspects of sebum activity. Contraindications: If topical Vitamin C (L-Ascorbic Acid and/or Ethylated L-Ascorbic Acid) is used as part of skincare, it should be applied at alternate times with this formula (ideally Vitamin C in the PM and this formula in the AM). Otherwise, Niacinamide can affect integrity of the Vitamin C.
Ingredients: Aqua (Water), Niacinamide, Pentylene Glycol, Zinc PCA, Dimethyl Isosorbide, Tamarindus Indica Seed Gum, Xanthan gum, Isoceteth-20, Ethoxydiglycol, Phenoxyethanol, Chlorphenesin.
Step 2: Alpha Arbutin 2% + HA – AM & PM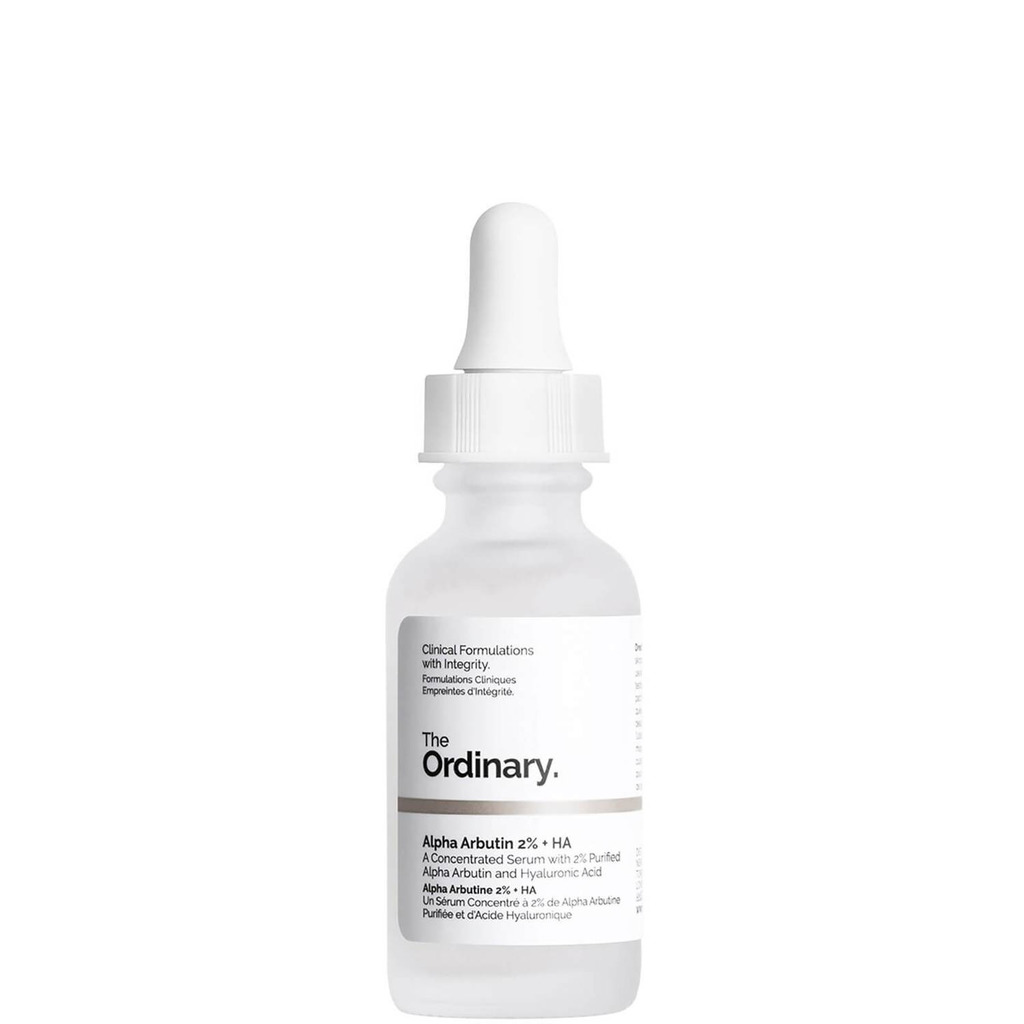 The alpha arbutin should go onto your skin 5-10 minutes after applying the niacinamide. You can use alpha arbutin both in the morning and at night, or just in the morning. This is a concentrated serum of alpha arbutin with hyaluronic acid and it works to diminish the appearance of scars and redness, all while keeping skin moisturized. A MUST have for anyone with scars, dark spots, or pigmentation.
Alpha Arbutin reduces the looks of spots and hyper-pigmentation. It's used at a high 2% concentration versus a standard concentration of 1% and supported with a next-generation form of Hyaluronic Acid for enhanced delivery. Alpha Arbutin is much stronger in effect than Arbutin or Beta Arbutin. Note: Alpha Arbutin is extremely sensitive to degradation in the presence of water if the pH of the formulation is not ideal. The pH of this formula is approximately 4.9 which is shown to be the most suitable pH to minimize degradation of Alpha Arbutin.
Ingredients: Aqua (Water), Alpha-Arbutin, Polyacrylate Crosspolymer-6, Hydrolyzed Sodium Hyaluronate, Propanediol, PPG-26-Buteth-26, PEG-40 Hydrogenated Castor Oil, Lactic Acid, Trisodium Ethylenediamine Disuccinate, Ethoxydiglycol, Phenoxyethanol, Chlorphenesin.
Step 3: Salicylic Acid 2% Solution – AM & PM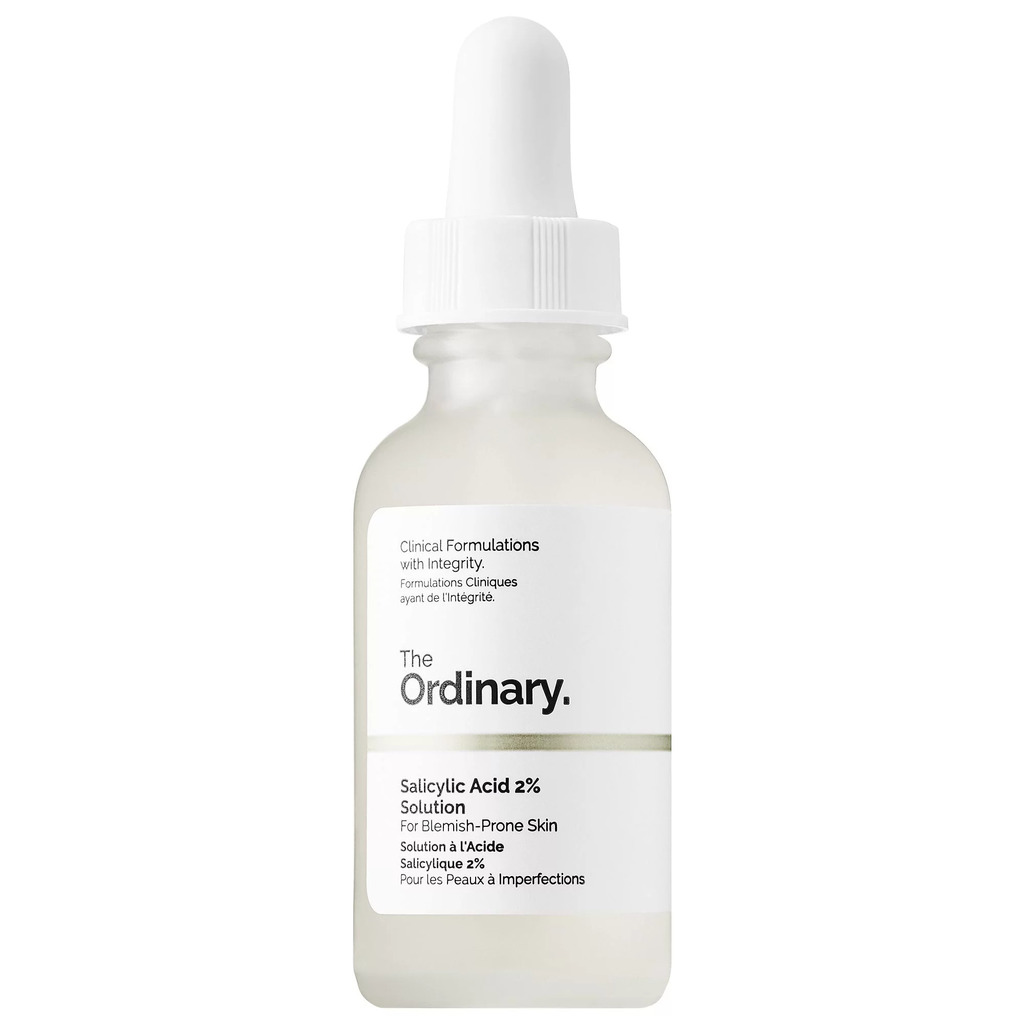 After having applied your niacinamide and aplha arbutin, you can choose to also apply a 2% salicylic acid solution. Now, this is completely up to you and it all depends on the severity of the acne. Often times, salicylic acid can dry out the skin, so you can choose to forego this solution, but it's also worth a try if your acne is pretty advanced. In either case, we recommend you do use it every morning and night as it exfoliates the skin, kills bacteria, and also contains witch hazel to calm redness and irritation. We do no recommend you use this formula on sensitive or peeling skin.
Salicylic Acid is a beta hydroxy acid that exfoliates the skin. This 2% treatment solution helps exfoliate the inside walls of pores to fight the appearance of blemishes and for better visible skin clarity with continued use.
Ingredients: Aqua (Water), Hamamelis Virginiana Leaf Water, Cocamidopropyl Dimethylamine, Salicylic Acid, Dimethyl Isosorbide, Trisodium Ethylenediamine Disuccinate, Citric Acid, Polysorbate 20, Hydroxyethylcellulose, Ethoxydiglycol, Potassium Sorbate, Sodium Benzoate, 1,2-hexanediol, Caprylyl Glycol.
Step 4: Azelaic Acid Suspension 10% – AM or PM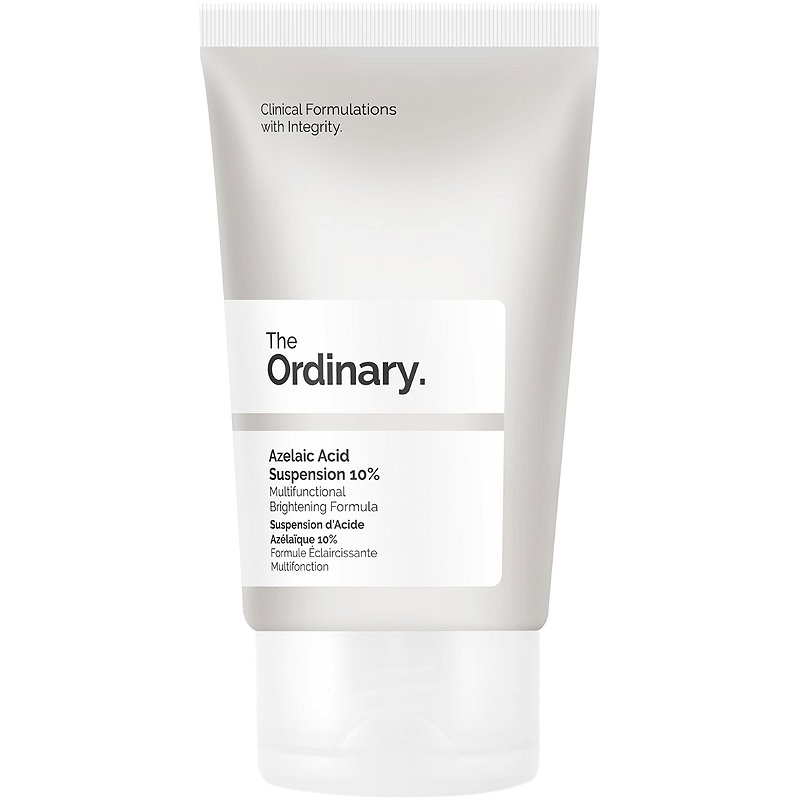 This multi functional brightening formula helps to brighten skin as well as improve skin tone. Rather than a serum type of product, this is more of a gel-cream hybrid which is highly concentrated not only to brighten, but also kill bacteria and prevent breakouts. Because of the high concentration of azelaic acid, we recommend you only use this product in the morning OR at night to start with. If using in the mornings, be sure to apply a high SPF, as sun exposure can cause skin sensitivity. If you notice that your skin does not get irritated, you may use it every morning and night.
Found in grains, Azelaic Acid is produced naturally by yeast that lives on normal skin. It brightens the skin tone while visibly improving the evenness of skin texture and reducing the look of blemishes. It is a multi-functional support ingredient for all skin types and also acts as an effective antioxidant. This formula offers a very high 10% concentration of high-purity Azelaic Acid in a lightweight cream-gel system.
Ingredients: Aqua (Water), Isodecyl Neopentanoate, Dimethicone, Azelaic Acid, Dimethicone/Bis-Isobutyl PPG-20 Crosspolymer, Dimethyl Isosorbide, Hydroxyethyl Acrylate/Sodium Acryloyldimethyl Taurate Copolymer, Polysilicone-11, Isohexadecane, Tocopherol, Trisodium Ethylenediamine Disuccinate, Isoceteth-20, Polysorbate 60, Triethanolamine, Ethoxydiglycol, Phenoxyethanol, Chlorphenesin.
Step 5: Retinol 1% in Squalane – PM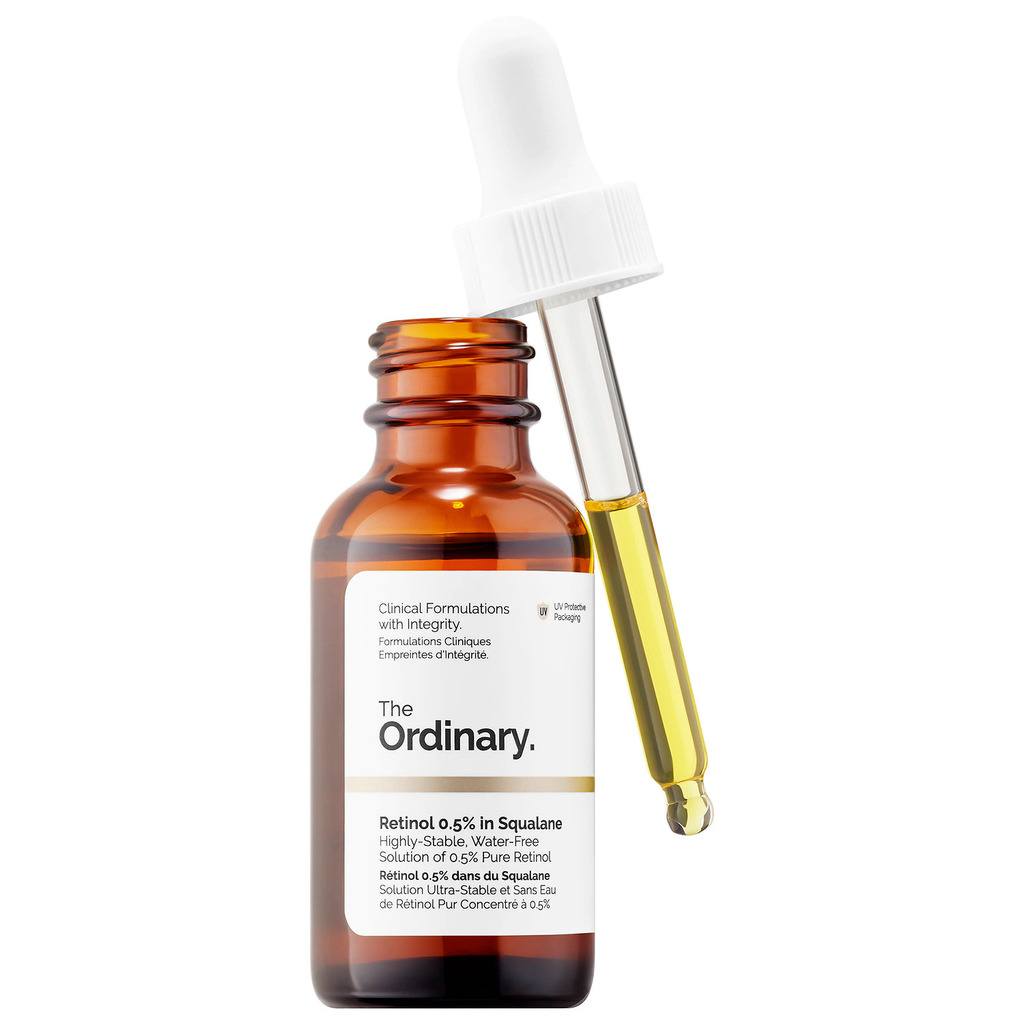 Although not an anti-acne product per se, the retinol solution is one of The Ordinary's cult favorites and a must have in your beauty regime. Use retinol only in the evenings as the last step in your The Ordinary regimen but before moisturizer. This water free solution contains 1% pure retinol which helps reduce the appearance of aging, including fine lines, wrinkles, and sun damage. Please note that if you have sensitive skin, it's recommend you start with a lower dose of retinol such as a 0.2% formulation until your skin builds tolerance. Those with sensitive skin can expect dryness and irritation. Since each skin tolerates different products, always start with a lower dose first and work your way up!
Caution: Retinol can cause significant irritation, redness and peeling, especially around the eyes and mouth, in the early stages of treatment while skin builds tolerance. If you have not used high-strength retinol formulas in the past, we strongly recommend that you start your retinol regimen with our Retinol 0.2% in Squalane and adjust to higher strengths of Retinol 0.5% in Squalane and Retinol 1% in Squalane as your skin builds tolerance. You will achieve the same end results without the unpleasant redness and peeling along the way.
Ingredients: Squalane, Caprylic/Capric Triglyceride, Simmondsia Chinensis (Jojoba) Seed Oil, Retinol, Solanum Lycopersicum (Tomato) Fruit Extract, Rosmarinus Officinalis (Rosemary) Leaf Extract, Hydroxymethoxyphenyl Decanone, BHT.
Step 6: AHA 30% + BHA 2% Peeling Solution – 2X/Week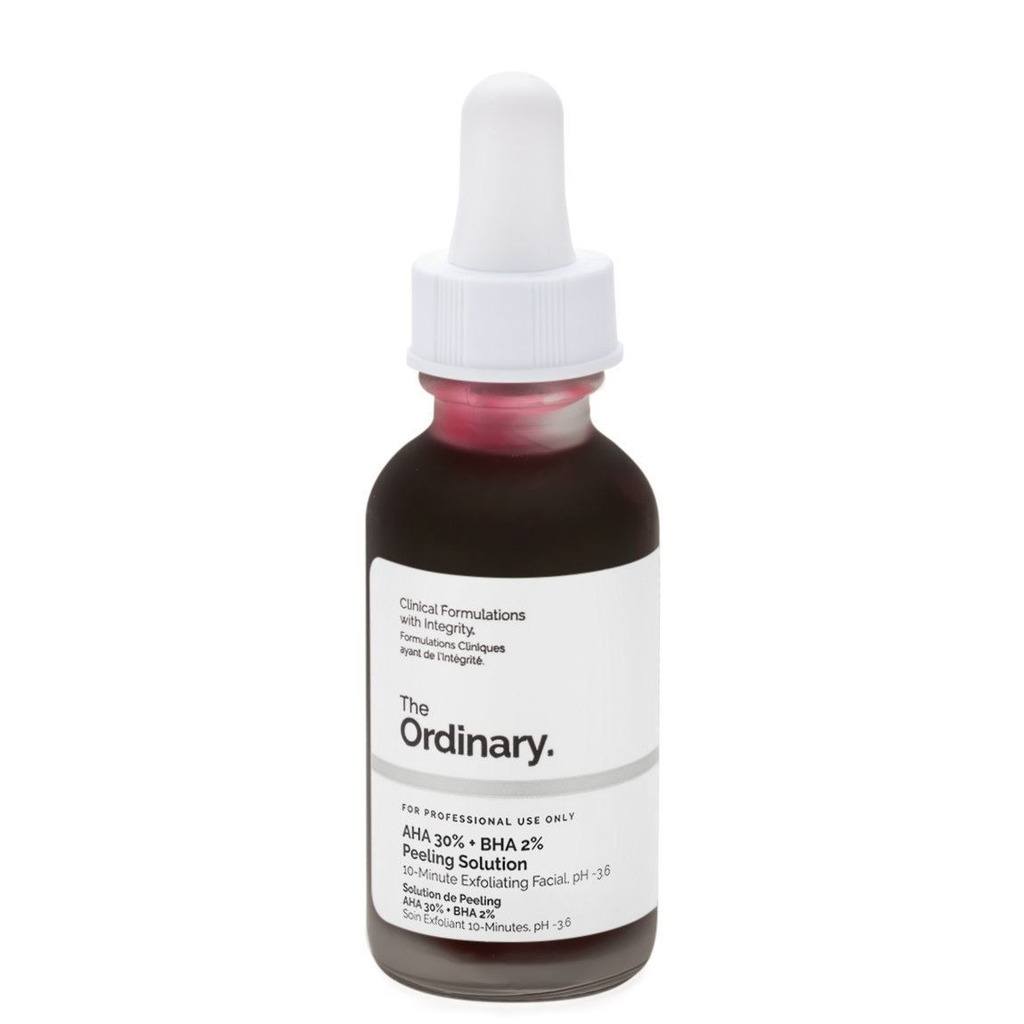 Another cult favorite, the AHA BHA peeling solution is a highly concentrated formulation that exfoliates the skin's surface for a softer, brighter appearance. You should ONLY use this solution if you do not have sensitive skin. This peeling solution is a saving grace, especially for those with acne and acne scars. Although you may feel a stinging sensation for a few seconds, it's completely normal. Your skin will feel extremely smooth immediately afterwards.
Alpha hydroxy acids (AHA) exfoliate the skin's topmost surface for a brighter and more even appearance. Beta hydroxy acids (BHA) also exfoliate the skin with an extended function to help clear pore congestion. This combined 32% AHA/BHA solution offers deeper exfoliation to help fight visible blemishes and for improved skin radiance. The formula also improves the appearance of skin texture and reduces the look of fine lines with continued use.
This formula contains a studied Tasmanian Pepperberry derivative to help reduce irritation associated with acid use. This derivative is of plant origin and varies in colour seasonally and this colour variation may be apparent in the formula from time to time. This formula is further supported with a crosspolymer form of hyaluronic acid for comfort, Vitamin B5 to assist healing and black carrot as an antioxidant.
Ingredients: Glycolic Acid, Aqua (Water), Aloe Barbadensis Leaf Water, Sodium Hydroxide, Daucus Carota Sativa Extract, Propanediol, Cocamidopropyl Dimethylamine, Salicylic Acid, Potassium Citrate, Lactic Acid, Tartaric Acid, Citric Acid, Panthenol, Sodium Hyaluronate Crosspolymer, Tasmannia Lanceolata Fruit/Leaf Extract, Glycerin, Pentylene Glycol, Xanthan gum, Polysorbate 20, Trisodium Ethylenediamine Disuccinate, Potassium Sorbate, Sodium Benzoate, Ethylhexylglycerin, 1,2-Hexanediol, Caprylyl Glycol.
When using all or a few of these products in combination, be sure to allow a few minutes in between application of each product. This is important so that the product can properly penetrate the skin. Additionally, you should also do a skin patch test before using any of the above products. Avoid sun exposure when using retinols or peeling solutions as these can cause further irritation.
If you have a favorite skin can regime from The Ordinary that you'd like to share, let us know in the comments!