Learn how make your face look thinner with these 10 easy steps – accessories, makeup, and a little bit of hair-styling are all you need!
Maybe you have a naturally round face or maybe you've harbouring a few extra pounds onto your cheeks. Whatever the case, these 10 tips and tricks will ensure that your face is slimmer than it has ever been before! So here are 10 ways to make your face look thinner!
How Make Your Face Look Thinner With These 10 Easy Steps
#1. Wear Long Earrings to Make Your Face Look Thinner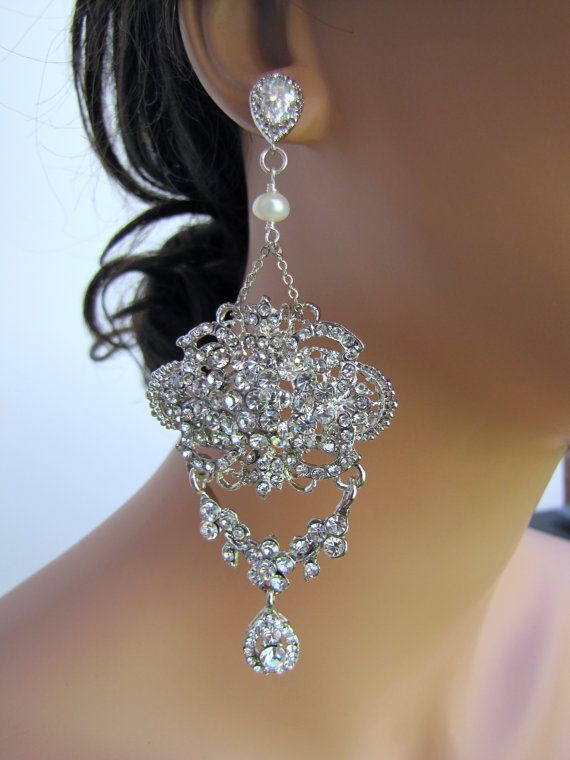 It makes so much sense, right? Long, dangly earrings will elongate your face and also draw attention AWAY from the chubby parts. Pick earrings that are eye-catching to draw attention away from your round face shape. But whatever you do, stay away from hoop earrings – they'll actually just make you look rounder!
#2. Go Ombre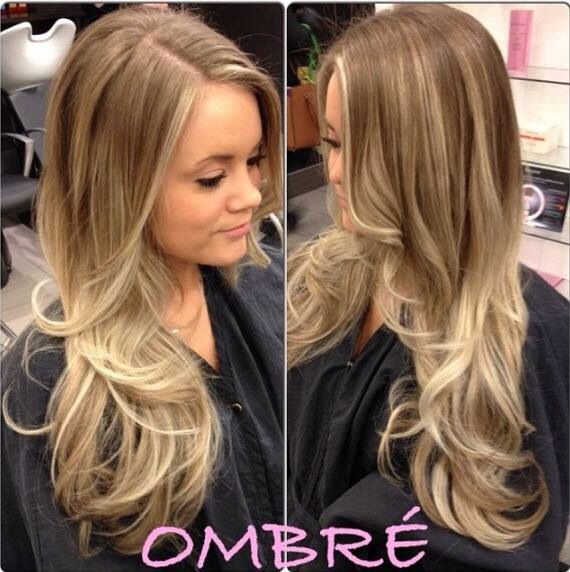 The ombre trend has been quite popular for the last couple of years, so why not give it a dry? Darker roots and lighter ends actually give the appearance of a slimmer face. Not to mention that with ombre hair, you'll have much less upkeep.
#3. Tease Your Crown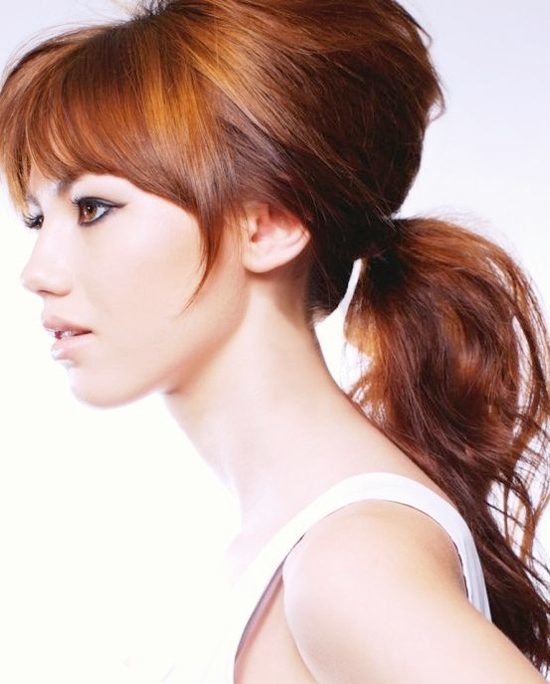 Keeping your hair higher at the crown of your head will give the illusion of a longer, slimmer face. Teasing your crown is easy and quick to do and works with just about any hair style. Start teasing at the crown but only tease 3 layers – any more than that and you'll end up looking like Snooki from Jersey Shore. Spray on a smoothing serum to tame any frizz and you're good to go!
#4. Color Your Hair Darker Around Your Face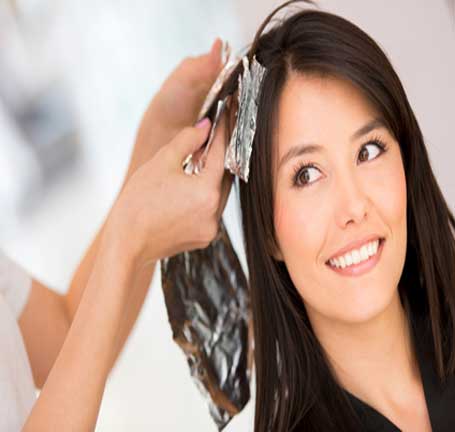 Stylists all over the world agree that darker hair is always more slimming, and it makes sense right? When we're feeling a little less than hot or are trying to hide a tummy pouch, we wear black. Black, in essence, makes things appear smaller and thinner. Same goes for hair. So if you've been looking for a color change, now would be the time to do it!
#5. Contouring Makeup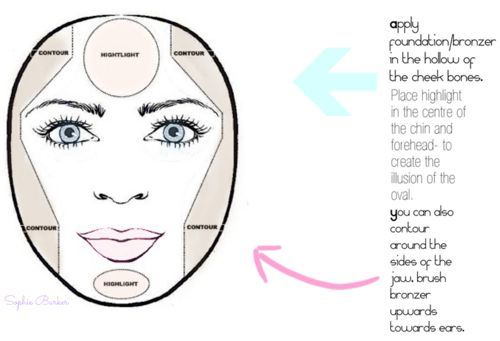 This one will make ALL the difference! You'd be surprised at how much makeup can really make a difference in your face.
Here's what you'll need:
Pressed matte powder that's one shade darker than your skin.
Here's what you'll do:
Lightly shade the jawbone, sides of the nose and temples on each side of your face. Think of it as tracing a 3 along the side of your face. Remember not to use too much product – you can always apply some later.
This would be the EASIEST contouring you could do and it'll only take you a minute. Take a before and after picture so you'll really see the difference!
If you want to go a little more in depth, check out these contouring diagrams above. For those, you'll need a highlighter (so any sort of white/light pencil) and a darker powder (1 or 2 shades darker than your skin tone).
You'll want to follow the diagrams, applying the highlighter and contouring where shown. Then, you'll start blending everything together using a makeup sponge.
You can follow ANY one of these diagrams above – they all work amazingly, so play around and see what suits you best!
#6. Go For a Mid-Height Ponytail To Make Your Face Look Thinner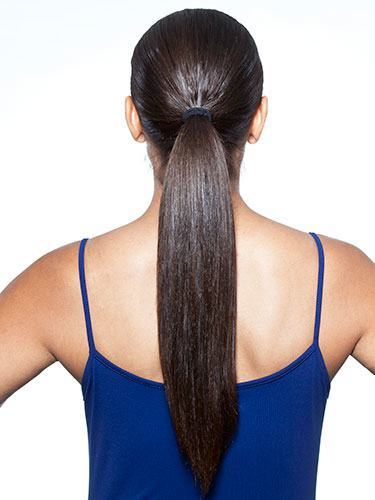 Sporting a mid-height ponytail will make your round face appear longer and slimmer. Instead of going really high with your pony, match the ponytail height to the tips of your cheekbones for the best faux face-lift effect.
#7. Go For Long Layers & Side Swept Bangs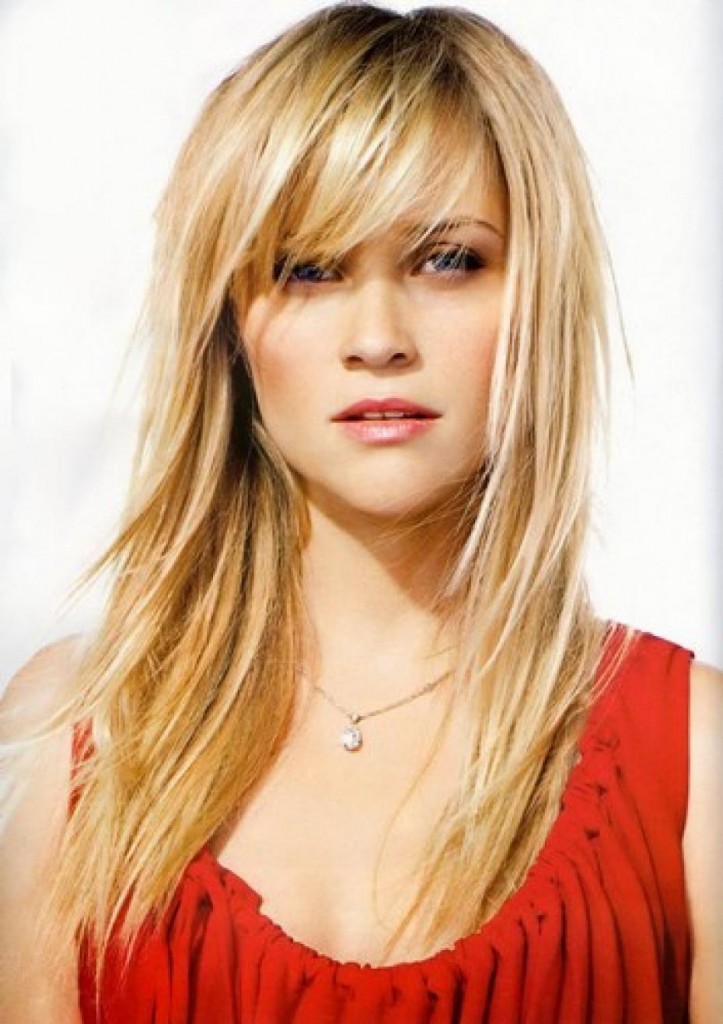 Stay away from short, straight bangs and go for side-swept ones as they will create a natural frame around the face. Then, opt for layered locks as they will elongate your face and stay away from a straight cut.
#8. Create Cat Eyes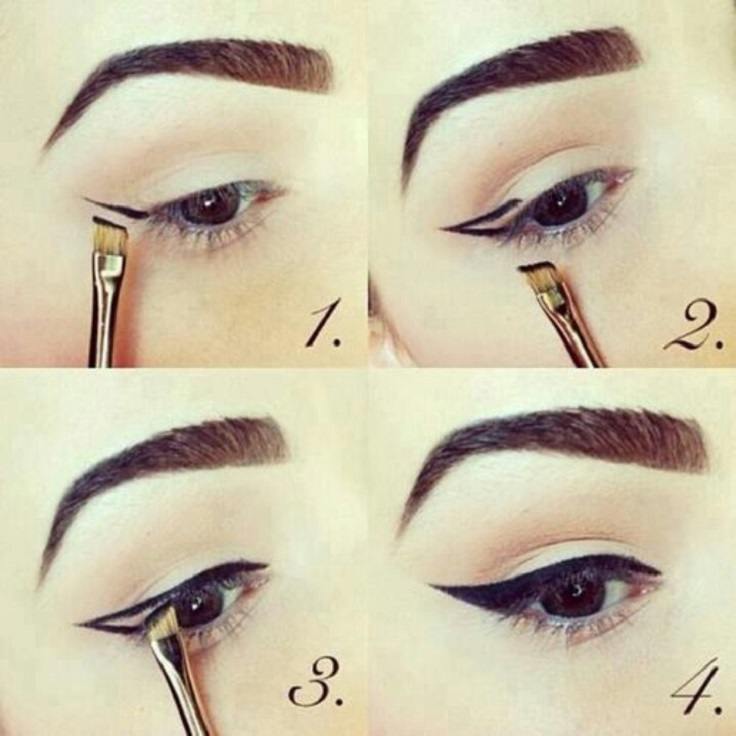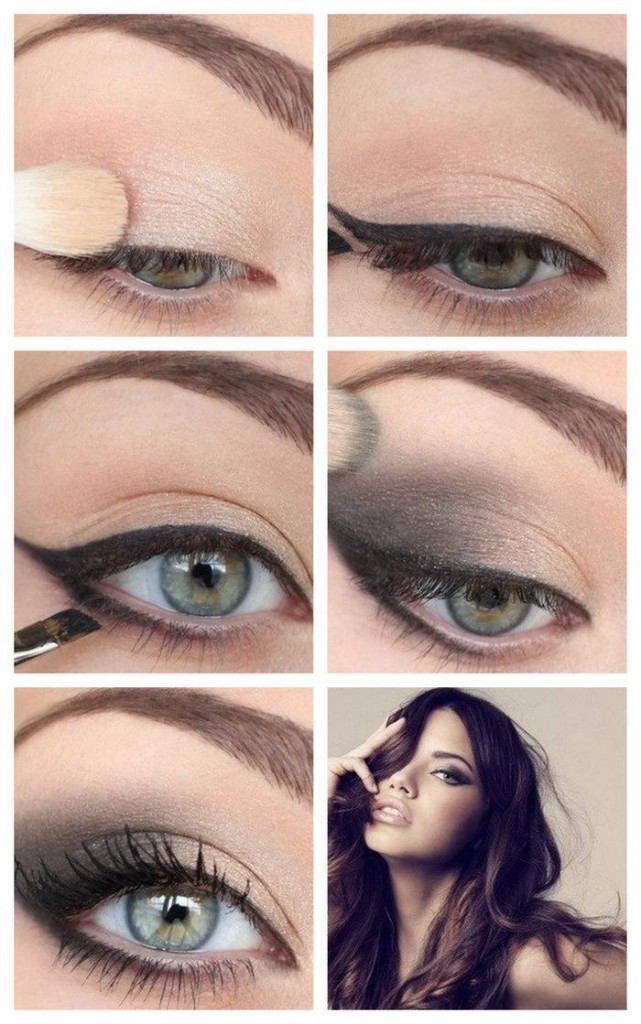 A cat eye will help elongate the lash line and eye shape in and outward and upward direction.
How to create a cat eye: highlight your eyes with a dark colored eye pencil, smudge it slightly around the lash line, and apply a light layer of eyeshadow. Then, sweep a darker shadow above the crease, following the natural curve of your eye.
Check out the diagrams above to get a better idea and follow along!
#9. Use Blush to Your Advantage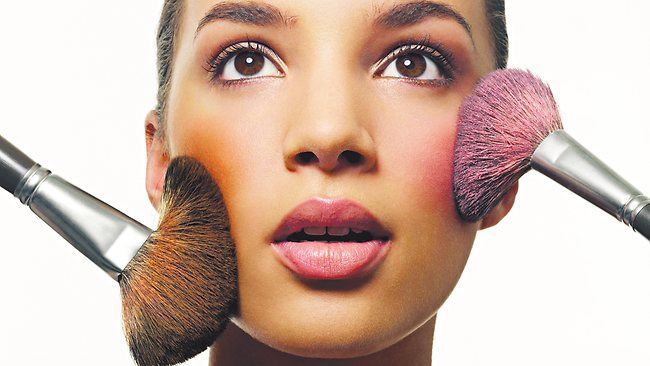 To really elongate your face, use the blush sandwich trick by swiping three different blush colors onto your cheeks. Use a highlighter on the top of your cheekbones, a bright cream blush onto the apples of your cheeks, and a bronzer or darker powder underneath the cheekbones. This will give your face a more "lifted", angular look.
#10. Reshape Your Brows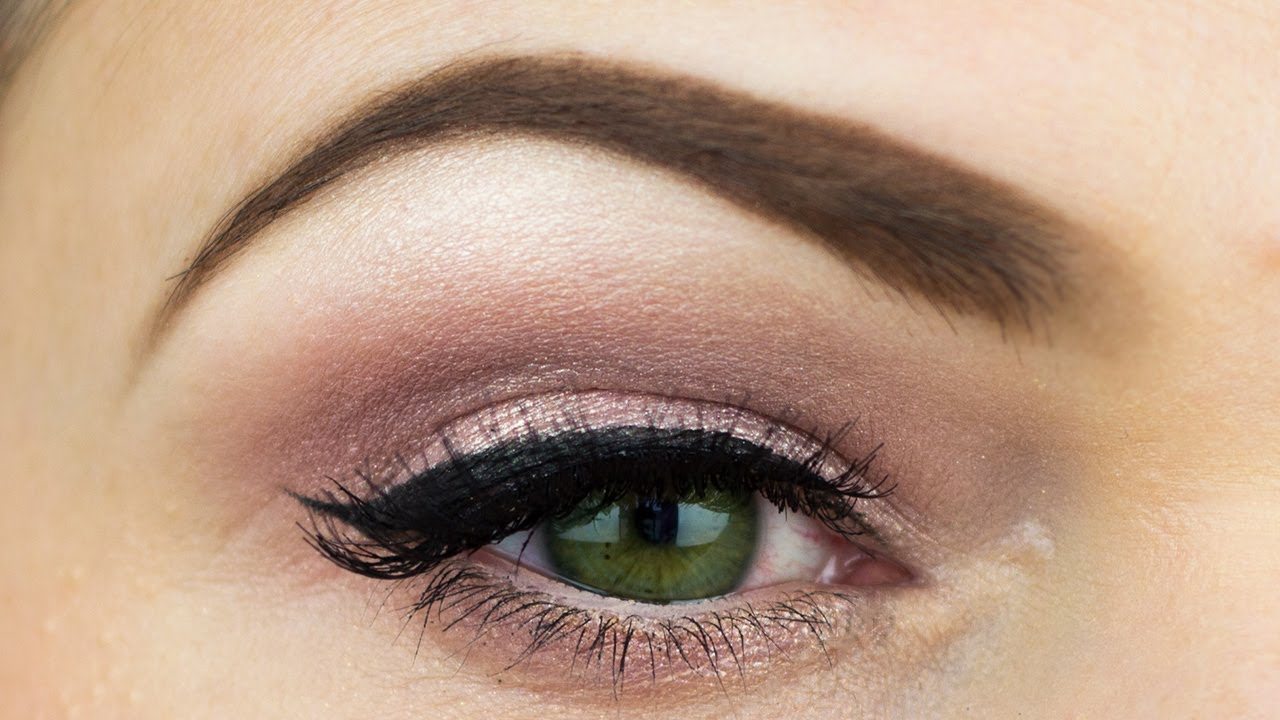 Eyebrows can really re-shape your entire face if you do them right. Think of a higher arch and a more angular shape. Find the highest point of your eyebrow and use an eyebrow pencil to heighten it and make it sharper. Don't over-tweeze – thin eyebrows will make your face look rounder.
Other Ways to Make Your Face Thinner
Of course, there are other ways to make your face look thinner, and they don't necessarily include makeup and different hairstyles, but rather, a lifestyle change!
If you're looking to lose weight, the first thing that you will usually notice is the slimming of the face. Facial muscle exercises also work to thin the face, as long as you have a little bit of patience and be consistent with your exercises. These facial exercises consist of opening and closing the mouth, making o-shapes with the mouth, and sucking in your lips (as if making a fish face!). Additionally, a regular facial massage can also help break down face fat. Do this by gently massaging the face with your fingertips and going upwards toward the top of the head.
Another way to make your face look thinner is of course to eat healthy, exercise regularly, and tone the muscles by doing weight training. So now that you know how to make your face look thinner, it's time to get to work and put these tips to good use!