Got a little too much sun over the weekend? Not to worry, because these 2 homemade face masks for sunburnt skin are here to the rescue! There is nothing worse than super red, dry, and tight skin after spending a few hours in the sun….not to mention the damage you've probably already caused! But thankfully, these 2 homemade face masks are PERFECT for soothing, calming, and reversing the damage that was done by the sun. We recommend putting any one of these face masks on immediately after being in the sun, and then again before bed.
Homemade Face Masks for Sunburnt Skin
#1. Yogurt & Cucumber Face Mask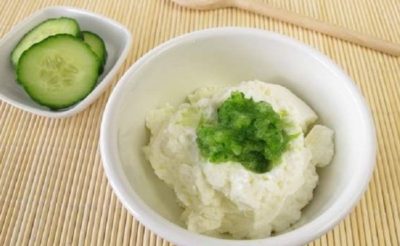 a few mint leaves
1/4 of a medium sized cucumber
1 tbsp plain, natural yogurt
Wash the mint leaves and the cucumber well. Cut the cucumber into small pieces and place in a blender along with the mint leaves to make a smooth paste.
Remove the mint and cucumber paste and add to a bowl. To that bowl, add the yogurt and stir well.
Spread all over face and neck and leave on for 30 minutes. Apply 2-3 times a week to soothe dry, irritated, and burnt skin, and to reverse the damage of the sun.
Mint has some powerful anti-inflammatory properties which can help soothe burnt skin, and will also calm dry and/or itchy skin. Also helps with acne and breakouts as it contains vitamin A which helps control the production of oil. Minto also tones up skin and removes blackheads.
Cucumber contains silica which is a rich source of nutrients that gently replenishes the skin. Silica also holds the connective tissue of skin tightly and acts as an anti-acne, anti-aging, and anti-wrinkle compound. Also contains Vitamin A which protects against UV damage and slows down the signs of aging by encouraging healthy skin cell production. It keeps the skin moisturized and hydrated internally.
Yogurt contains lactic acid which helps to remove dead skin cells and therefore helps with sunburnt skin as it removes the dead and dried outer layer. Also moisturizes, hydrates, and soothes irritated skin.
#2. Aloe Face Mask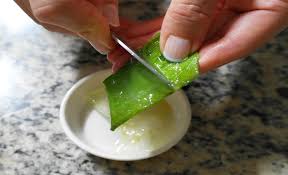 Mix all ingredients together and apply over clean face and neck. Leave on for 30 minutes and rinse off with lukewarm water. Pat dry and repeat 2-3 times a week until burn is gone.
Aloe Vera is one of the most popular ingredients when it comes to burnt skin…after all it IS known as the burn plant! Aloe vera treats burns faster than almost anything and will also hydrate and moisturize dry, itchy skin.
Yogurt, as we mentioned above, will help to remove dead skin cells and will also moisturize and hydrate drys kin.
Gram Flour controls oil secretion and will also remove dirt and toxins. Also helps with keeping skin soft and supple as it imparts moisture into the skin.
Like this post? Share and Pin 🙂