Big fans of DIY scrubs, are going to LOVE this coffee and coconut body scrub recipe! Made with natural ingredients (but of course!), this body scrub will wake up all of your senses, so it's perfect as a morning scrub, but really any time of day is ideal for such a decadent scrub! The simple yet effective ingredients in this scrub will leave your skin squeaky clean, ultra soft, and smelling of absolute heaven! Let's dive in and check out how to make this coffee and coconut body scrub recipe!
DIY Coffee and Coconut Body Scrub Recipe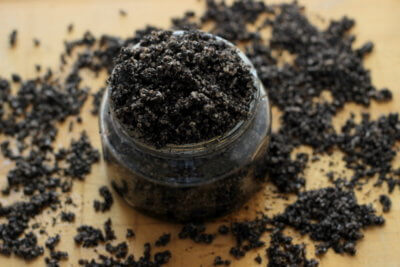 You'll Need:
3/4 cup coarsely ground coffee
1 1/2 cups Epsom salts
3/4 cup unrefined coconut oil (has a much stronger, yummier scent than refined coconut oil which often times doesn't have much of a smell!)
1 tsp favorite essential oil or vanilla extract
Directions:
In a medium size bowl, mix all ingredients together.
You can play around with the coffee/Epsom salt ratio if you'd like a stronger coffee smell!
Store in an airtight jar or container for up to 6 months. You can also keep it in the fridge (especially in the summer) for a much needed cooling effect.
Scrub onto wet skin in slow, circular motions 2-3 times a week to slough off dead skin cells and reveal soft, glowing skin!
The scent of the coconut and coffee will awaken all of your senses and it will feel like a really indulgent, expensive scrub! This is also great as a gift as long as you package it in a nice jar!
Note: Do not use this scrub on your face as the Epsom salts are only for the body.
If you like this post, don't forget to share 🙂