If you like making your own face masks, you'll love this simple, yet very effective DIY anti-aging face mask with strawberries and sweet potatoes. Sweet potatoes? Yes, you read that right! Although a peculiar seeming ingredients, sweet potatoes are loaded with antioxidants, vitamins, and minerals that can actually help your skin fight the sings of aging. And, according to dermatologists there are two main ingredients that are used in anti-aging creams: antioxidants and cell regulators.
DIY Anti-Aging Face Mask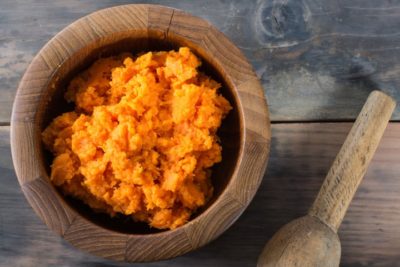 Antioxidants:
There are 3 specific antioxidants that can actually penetrate the skin and these are:
Vitamin C has some powerful anti-aging effects, while vitamin E provides anti-inflammatory effects, and also encourages cell growth. When these two are combined with vitmain B3, they form a powerhouse of antioxidants that penetrate the skin deeply to prevent damage, reverse the signs of aging, and keep skin taut.
Cell Regulators:
Cells regulators basically stimulate the production of elastic fibers and collagen. These cell regulators are:
Vitamin A (retinol)
Polypeptides
Botanicals
Vitamin A, also known as retinol, is one of the most common ingredients used in anti-aging products and has been scientifically proven to reverse the signs of aging. Polypeptides and botanicals have powerful anti-aging properties that go deep into the skin to restore skin's look and elasticity.
This DIY anti-aging face mask incorporates both antioxidants and cell regulators to renew cell growth, plump skin up, prevent overall wrinkles, as well as stop them!
Ingredients:
1/2 of a sweet potato – cooked, peeled, and cut into chunks
3 large strawberries – stem removed
1 tbsp honey
2 capsules vitamin E oil
Directions:
To a blender or food processor, add all of the ingredients and puree until smooth. Apply the mask to a clean face and neck and leave on for 20 minutes or until dry. Rinse off with warm water and pat dry. Follow up with a natural moisturizer if needed.
Like this post? Share and Pin 🙂