We're sad to see summer go, but we're also super excited about all the wonderful things that fall has to bring…such as this DIY apple spice sugar scrub! Fall is all about warm scents and flavors, pumpkin and apple spice, and comfort everything! This DIY apple spice sugar scrub is basically fall wrapped into a neat little container. Perfect for yourself, but even better to give away as a gift! With only a few natural ingredients, this apple spice sugar scrub is not only easy to make but oh-so-cheap too! So if you're looking to smell like a basket of fall spice AND save money, look no further!
DIY Apple Spice Sugar Scrub Recipe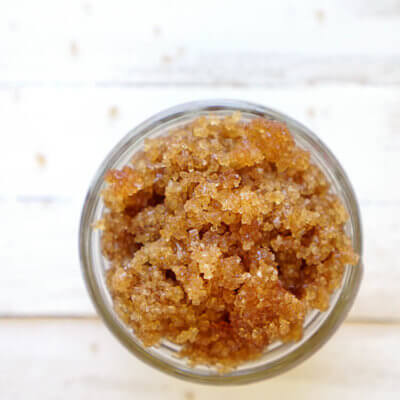 Ingredients:
Directions:
In a large bowl, combined all ingredients until well blended. You may have to add a little more coconut oil to get the consistency just right, but it should look just like any other sugar scrub!
The sugar scrub should keep for a couple of weeks, but if you plan on keeping it for longer, add one teaspoon of vitamin E to help preserve it.
Transfer to scrub to a clean jar or container and close it up.
Use 2-3 times a week in the shower to slough off dead skin cells and reveal beautifully soft skin. The scent of the brown sugar, apple pie spice, and other spices will warm your soul!
If you like this post, please share 🙂