Looking to spice up your sugar scrub repertoire? Look no further than this DIY chai spice sugar scrub which literally smells like heaven and will leave your skin silky smooth! The actual chai spice mixture is often used in teas and has a slew of health benefits, but, when applied to the skin, these chai spices can do a world of good!
Cardamom is a wonderful spice that can help with acne, wrinkles, and also acts as a natural toner.
Cloves are a natural antiseptic and disinfecting agent which makes is a great ingredient for acne, blemishes, and scars.
Nutmeg also helps with acne, eczema, and breakouts. Also reduces inflammation and redness.
Cinnamon is a natural cleanser and also stimulates blood flow. Also has anti-aging benefits.
DIY Chai Spice Sugar Scrub Recipe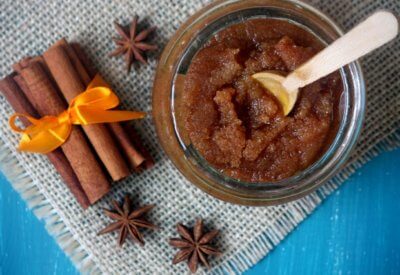 Ingredients Needed:
2 cups sugar
1 cup coconut oil
1/2 tsp ground cardamom
1/2 tsp ground cinnamon
1/4 tsp ground cloves
1/4 tsp ground nutmeg
1/4 tsp ground ginger
10-20 drops cinnamon bark oil (optional)
Directions:
In a bowl, mix all ingredients together until well combined.
Scoop into a clean, airtight jar or container.
Use in the shower on wet skin, and rub in slow circular motions.
Rinse off and pat dry.
Use 2-3 times a week.
Like this post? Share and Pin 🙂