This DIY coconut strawberry body scrub is absolutely scrumptious! The combined scents of coconut and strawberry will take you far, far away into a tropical bliss, relaxing all of your senses and leave your skin silky smooth. This DIY scrub is also so easy to make, that anyone can do it and it also makes a really cute gift! Scoop the scrub into a pretty mason jar, and tie some twine and bow around the base!
How to Make Coconut Strawberry Body Scrub
If strawberries are in season in your area right now, this is the perfect time to make this DIY coconut strawberry body scrub! Strawberries are high in Vitamin A, E, and antioxidants and they fight free radicals. Perfect for aging skin, but works on ALL skin types to slough off dead skin cells, revealing ultra smooth, baby soft skin. And I can't begin to tell you how heavenly this scrub smells – you'll seriously want to eat it!
You'll Need:
1 cup white sugar
1/2 cup organic, cold pressed coconut oil
2 tsps dried strawberry powder
10 drops strawberry essential oil
5-10 drops coconut flavor oil
Directions: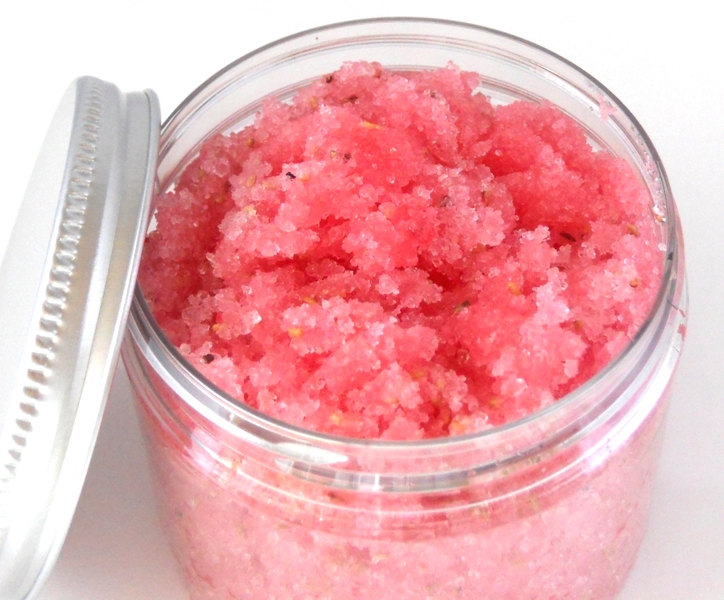 In a medium sized bowl, mix together the sugar and strawberry powder until combined.
Melt your coconut oil in a microwave safe bowl (about 10-15 seconds) until melted.
Add the melted coconut oil to the sugar mix, along with the strawberry and coconut oils and mix well.
Scoop your mixture into a clean jar or container.
Use once or twice a week in the shower to scrub away dead skin cells, rejuvenate the skin, and fight free radicals. Your skin will smell of strawberries and coconut, and it will be simply irresistible! No need to follow up with a moisturizer, as coconut oil is seeps deep into the skin to moisturize skin.
If you like DIY scrubs, face masks, and lotions, please check out our DIY beauty blog!
If you like this post, don't forget to share 🙂