Activated charcoal is taking the beauty domain by storm, and we don't mind one bit! Put activated charcoal in everything if it'll help with perfect, blemish-free skin! This DIY glowing charcoal face mask is truly one of THE best face masks we've ever tried – it left our skin glowing like nothing else, made it super soft and supple, and, within a few uses, banished breakouts and minimized blackheads. What MORE could you want from a face mask? Our DIY glowing charcoal face mask will seriously change your face mask game!
DIY Glowing Charcoal Face Mask Recipe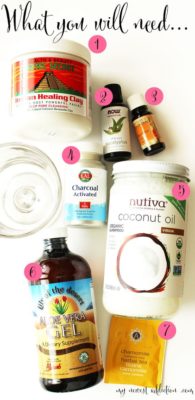 Source: Mynewestaddiction
Ingredients Needed:
6-9 activated charcoal capsules
1/4 cup bentonite clay
1 tbsp virgin coconut oil
1 tbsp aloe vera gel
1-2 oz chamomile herbal tea (optional)
1-2 drops eucalyptus essential oil (optional)
1-2 drops peppermint essential oil (optional)
As you can see, this recipe is packed full of amazing ingredients, BUT if you don't have the latter ones, such as the herbal tea and the essential oils, that's totally fine! The mask will still work, but we highly recommend you go out and get that tea as well as those essential oils because it will make a world of difference!
Directions:
Brew the chamomile tea according to package directions. Once steeped, add in your coconut oil so that it will melt.
Let the tea cool down a bit, and proceed to add all the rest of the ingredients.
Stir well to combine and apply to a cleansed face and neck.
Leave on for 10-15 minutes, or until the mask dries.
Remove with a warm washcloth and rinse off any leftover residue.
Pat dry and follow up with a light moisturizer!
***This mask makes about 6 face masks, so if that's too much, just cut the recipe in half and go from there!***
Like this post? Share and Pin 🙂