This DIY lavender body wash will leave your skin super soft and silky all while cleansing and moisturizing. So why make your own body wash? Well for one, it's a much safer alternative to commercial body washes which are laden with chemicals. Secondly, you'll end up saving a ton of money as this DIY lavender body wash recipe contains all natural, easy-to-find, and cheap ingredients. Third, this body wash foams up, cleanses deeply, and also hydrates dry skin, leaving it soft and glowing. Do we need ANY more reasons to make our own body wash? No – we do not!
DIY Lavender Body Wash Recipe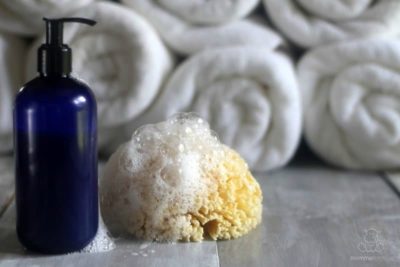 Ingredients:
As you're looking through these ingredients you may ask yourself…what the heck is guar guam? Guar guam is a natural thickening agent which will thicken the DIY body wash and give it that nice, silky texture. You can find guar guam at your local health store or online.
You can opt not to use guar gum or xanthan gum, but then your body wash will end up being watery.
Directions:
To a blender, add all of the ingredients except for the lavender castile soap. If you DO add the soap, you'll end up with a foaming, bubbly mess that will take forever to clean!
Blend on high for about a minute, and pour into a clean bottle or container.
Then, add in this castile soap and stir well.
Shake well before each use to separate ingredients.
Your DIY lavender body wash is now ready to use!
Like this post? Share and Pin 🙂