Looking to switch from commercial toothpaste to an all natural one? This homemade toothpaste recipe is super easy to make and will leave your teeth sparkling white and your breath fresher than ever! When we first started switching to natural toothpaste, we would simply purchase a natural, safer version from the local health store, but we soon found out how expensive that would turn out to be! Fortunately, the age of DIY products is in full force, and it didn't take us long to find an ALL natural, cheap, AND effective homemade toothpaste recipe!
All Natural Homemade Toothpaste Recipe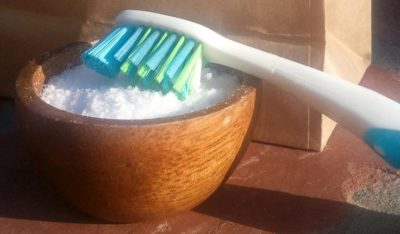 This easy homemade toothpaste recipe uses the following all natural ingredients: baking soda, bentonite clay, sea salt, and peppermint essential oil.
Bentonite Clay is used in a lot of face masks, but it also makes for a great toothpaste! The fine powder gently polishes the teeth and gives them a boost of calcium. Also absorbs toxins, impurities, and heavy metals.
Baking Soda is a mild abrasive to will slough off dirt, buildup, and plaque. Baking soda is also a natural bleaching agent, therefore making it a great toothpaste addition!
Sea Salt is a natural scrub, and will remove dirt and buildup, while also protecting the gums and preventing infection and inflammation.
Peppermint Essential Oil has antibacterial and antiseptic properties, as well as a fresh, minty smell that will bring this toothpaste all together!

You'll Need:
2 tbsp baking soda
2 tbsp bentonite clay
1/2 tbsp sea salt
10-20 drops peppermint oil, but you can also substitute for cinnamon essential oil, spearmint essential oil, or whatever flavor you prefer!
Directions:
Mix all of the ingredients in a wooden or plastic bowl using a wooden or plastic utensil. Do not use metals to mix as it can pull all the good minerals from the bentonite clay.
Scoop mixture into a clean, airtight jar or container.
How to Use:
Simply dip your toothbrush into the powder and start brushing.
Haflway through, run your toothbrush under the tap for a second, and continue brushing.
Rinse your mouth, clean your toothbrush, and you're all set!
Like this post? Share and Pin 🙂