So if you've never made your own lip scrub before, you're seriously missing out! Making your own lip scrub is not only super fun and easy, but it will also save you money in the long run, and leave your pout soft and kissable! What's even better is that you most likely already have all the ingredients needed to make this DIY lip scrub recipe, so there is no need to rush out and buy more stuff! Made with all natural ingredients that are good for your lips, this DIY lip scrub recipe smells heavenly and you'll wanna use it all the time!
DIY Lip Scrub Recipe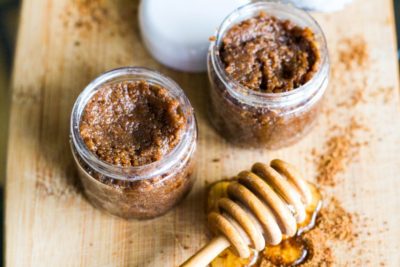 Ingredients:
Directions:
In a small bowl, mix all ingredients together until a scrub-like consistency forms.
Scoop scrub into a clean, airtight jar or container.
Rub a small amount onto wet lips and scrub in slow, circular motions. Rinse off and pat dry.
Follow up with a homemade lip balm.
Benefits:
Scrubs away dead skin cells, revealing softer, pinker lips.
Coconut oil hydrates dry, chapped skin.
Honey is anti-septic and anti-bacterial.
Cinnamon will leave your lips smelling like a freshly-baked cinnabon.
Like this post? Share and Pin 🙂