If you've ever wanted to be a mermaid, here's your chance! Ok, maybe not, but this is as close to it as you're going to get! This DIY mermaid bath salts recipe is all you could ever want in bath salts! These green bath salts will hydrate dry skin, relax tired and sore muscles, and detox your entire body. The second you scoop these salts in your bath, you'll feel like an instant mermaid! So gather your beauty supplies, and let's make these DIY mermaid bath salts!
DIY Mermaid Bath Salts Recipe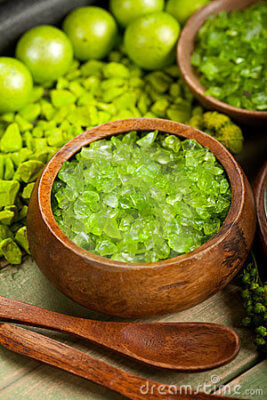 Ingredients:
1 cup sea salt
1/8 cup French green clay
1 tsp Spirulina powder
1 tbsp liquid chlorophyll
Directions:
Combine all ingredients in a glass bowl and mix with a wooden spoon.
Scoop into a clean, airtight jar and use in the bath.
Add as much as you want into a warm bath and soak for at least 30 minutes.
Benefits of DIY Mermaid Bath Salts:
Spirulina powder: this algae powder is packed full of antioxidants that will give your skin a beautiful, healthy glow.
Liquid chlorophyll: helps to repair skin and close up any wounds. Perfect for acne prone skin.
Green clay: Rich in plant matter, green clay is full of silica, magnesium, zinc, and calcium which draw impurities out of the skin. Also exfoliates, clears up acne, and helps soften rough skin.
Sea salt: Mineral rich sea salt softens skin, absorbs oil and helps alkalize the skin.
Use once or twice a week for super soft, detoxed skin.
If you like this post, don't forget to share 🙂