Getting thicker, fuller hair can be a challenge, especially for those with super fine hair. Today we'll show you how to thicken hair with this rich, DIY mask. We love this mask for its simplicity, but also because it actually works! After just one use, you'll immediately notice fuller, thicker looking hair. After about a month, you'll notice thicker hair strands as well as faster hair growth. So if you're looking to get thicker, longer hair, this DIY mask is right up your alley!
How to Thicken Hair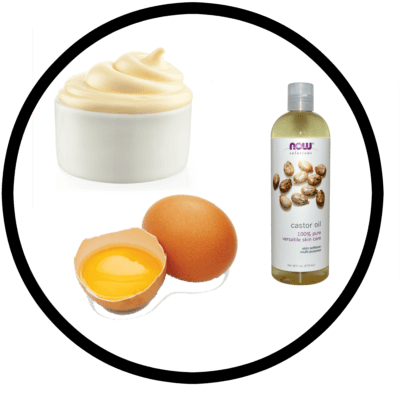 Ingredients Needed:
1/2 cup mayonnaise
1 tbsp castor oil
1 egg
Directions:
In a bowl, mix all ingredients together.
Apply to damp hair and cover with a hot, wet towel.
Leave on for 30-40 minutes and rinse out. Shampoo and condition as normal.
Repeat 2-3 times a week for at least a month. Repeat once a week thereafter.
Benefits:
Mayonnaise deeply hydrates and moisturizes dry locks, which is one of the main causes of thin, slow growing hair. Mayo also contains an amino acid called L-cysteine which helps to nourish the scalp and promote healthy hair growth.
Castor Oil is one of the most widely used hair growth oils because it contains ricinoleic acid and omega- 6 essential fatty acids, which accelerate blood circulation to the scalp, increasing hair growth.
Eggs are packed full of protein which thicken the hair strand naturally.
Keep using this hair mask on a regular basis for best results.
If you like this post, don't forget to share 🙂