Got some wheatgrass powder laying around? Why not use it as a face mask?? This DIY wheatgrass face mask is perfect for all skin types as it balances out oil, prevents fine lines, rejuvenates dull skin, and prevents breakouts. Made with all natural, organic ingredients, this DIY wheatgrass face mask will make you feel like you're getting a super expensive facial at a spa!
DIY Wheatgrass Face Mask Recipe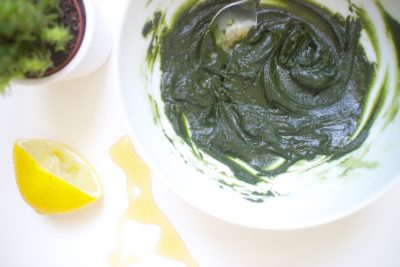 You'll Need:
1 1/2 tsp raw honey
1 tsp wheatgrass powder
Directions:
In a small bowl, mix the wheatgrass powder with raw honey and stir until well combined.
Use a facial brush to apply the mask all over your face and neck.
Be careful as once the honey starts warming up it may drip off your chin, so just have a small towel nearby to wipe up any messes!
Leave the mask on for 10-15 minutes. In the meantime, place a couple of cold cucumber slice over your eyes, lay back, and relax!
Wash off with lukewarm water and pat dry.
Follow up with a little bit of coconut oil to balance out skin.
Repeat once or twice a week for bright, glowing skin.
Benefits of Wheatgrass for the Skin:
Brightens dull skin
Removes dirt and impurities
Rejuvenates cells, making skin look younger
Prevents the formation of fine lines
Detoxifies
Prevents acne and blemishes
Like this post? Share and Pin 🙂